14.07.2020 | COVID-19 | Chest | Ausgabe 12/2020 Zur Zeit gratis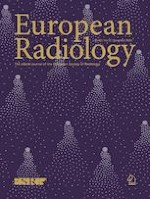 Accuracy of CT in a cohort of symptomatic patients with suspected COVID-19 pneumonia during the outbreak peak in Italy
Zeitschrift:
Autoren:

Giulia Besutti, Paolo Giorgi Rossi, Valentina Iotti, Lucia Spaggiari, Riccardo Bonacini, Andrea Nitrosi, Marta Ottone, Efrem Bonelli, Tommaso Fasano, Simone Canovi, Rossana Colla, Marco Massari, Ivana Maria Lattuada, Laura Trabucco, Pierpaolo Pattacini, the Reggio Emilia COVID-19 Working Group
Wichtige Hinweise
Electronic supplementary material
Publisher's note
Springer Nature remains neutral with regard to jurisdictional claims in published maps and institutional affiliations.
Abstract
Objective
To assess sensitivity/specificity of CT vs RT-PCR for the diagnosis of COVID-19 pneumonia in a prospective Italian cohort of symptomatic patients during the outbreak peak.
Methods
In this cross-sectional study, we included all consecutive patients who presented to the ER between March 13 and 23 for suspected COVID-19 and underwent CT and RT-PCR within 3 days. Using a structured report, radiologists prospectively classified CTs in highly suggestive, suggestive, and non-suggestive of COVID-19 pneumonia. Ground-glass, consolidation, and visual extension of parenchymal changes were collected. Three different RT-PCR-based reference standard definitions were used. Oxygen saturation level, CRP, LDH, and blood cell counts were collected and compared between CT/RT-PCR classes.
Results
The study included 696 patients (41.4% women; age 59 ± 15.8 years): 423/454 (93%) patients with highly suggestive CT, 97/127 (76%) with suggestive CT, and 31/115 (27%) with non-suggestive CT had positive RT-PCR. CT sensitivity ranged from 73 to 77% and from 90 to 94% for high and low positivity threshold, respectively. Specificity ranged from 79 to 84% for high positivity threshold and was about 58% for low positivity threshold. PPV remained ≥ 90% in all cases. Ground-glass was more frequent in patients with positive RT-PCR in all CT classes. Blood tests were significantly associated with RT-PCR and CT classes. Leukocytes, lymphocytes, neutrophils, and platelets decreased, CRP and LDH increased from non-suggestive to suggestive CT classes.
Conclusions
During the outbreak peak (in a high-prevalence setting), CT presented high PPV and may be considered a good reference to recognize COVID-19 patients while waiting for RT-PCR confirmation.
Key Points
•
During the epidemic peak, CT showed high positive predictive value and sensitivity for COVID-19 pneumonia when compared with RT-PCR.
•
Blood tests were significantly associated with RT-PCR and CT classes.