10.11.2020 | COVID-19 | STATE OF THE ART REVIEW | Ausgabe 6/2020 Zur Zeit gratis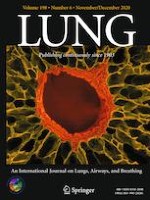 ACE2: The Major Cell Entry Receptor for SARS-CoV-2
Zeitschrift:
Autoren:

Filippo Scialo, Aurora Daniele, Felice Amato, Lucio Pastore, Maria Gabriella Matera, Mario Cazzola, Giuseppe Castaldo, Andrea Bianco
Wichtige Hinweise
Publisher's Note
Springer Nature remains neutral with regard to jurisdictional claims in published maps and institutional affiliations.
Abstract
Despite the unprecedented effort of the scientific community, the novel SARS-CoV-2 virus has infected more than 46 million people worldwide, killing over one million two hundred thousand. Understanding the mechanisms by which some individuals are more susceptible to SARS-CoV-2 infection and why a subgroup of them are prone to experience severe pneumonia, and death should lead to a better approach and more effective treatments for COVID-19. Here, we focus our attention on ACE2, a primary receptor of SARS-CoV-2. We will discuss its biology, tissue expression, and post-translational regulation that determine its potential to be employed by SARS-CoV-2 for cell entry. Particular attention will be given to how the ACE2 soluble form can have a great impact on disease progression and thus be used in a potential therapeutic strategy. Furthermore, we will discuss repercussions that SARS-CoV-2/ACE2 binding has on the renin–angiotensin system and beyond. Indeed, although mostly neglected, ACE2 can also act on [des-Arg 937]-bradykinin of the kinin–kallikrein system regulating coagulation and inflammation. Thorough comprehension of the role that ACE2 plays in different pathways will be the key to assess the impact that SARS-CoV-2/ACE2 binding has on organismal physiology and will help us to find better therapies and diagnostic tools.