12.06.2020 | COVID-19 | Narrative Review | Ausgabe 7/2020 Zur Zeit gratis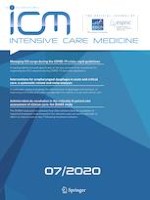 Acute kidney injury in critically ill patients with COVID-19
Zeitschrift:
Autoren:

Paul Gabarre, Guillaume Dumas, Thibault Dupont, Michael Darmon, Elie Azoulay, Lara Zafrani
Wichtige Hinweise
Electronic supplementary material
Publisher's Note
Springer Nature remains neutral with regard to jurisdictional claims in published maps and institutional affiliations.
Abstract
Acute kidney injury (AKI) has been reported in up to 25% of critically-ill patients with SARS-CoV-2 infection, especially in those with underlying comorbidities. AKI is associated with high mortality rates in this setting, especially when renal replacement therapy is required. Several studies have highlighted changes in urinary sediment, including proteinuria and hematuria, and evidence of urinary SARS-CoV-2 excretion, suggesting the presence of a renal reservoir for the virus. The pathophysiology of COVID-19 associated AKI could be related to unspecific mechanisms but also to COVID-specific mechanisms such as direct cellular injury resulting from viral entry through the receptor (ACE2) which is highly expressed in the kidney, an imbalanced renin–angotensin–aldosteron system, pro-inflammatory cytokines elicited by the viral infection and thrombotic events. Non-specific mechanisms include haemodynamic alterations, right heart failure, high levels of PEEP in patients requiring mechanical ventilation, hypovolemia, administration of nephrotoxic drugs and nosocomial sepsis. To date, there is no specific treatment for COVID-19 induced AKI. A number of investigational agents are being explored for antiviral/immunomodulatory treatment of COVID-19 and their impact on AKI is still unknown. Indications, timing and modalities of renal replacement therapy currently rely on non-specific data focusing on patients with sepsis. Further studies focusing on AKI in COVID-19 patients are urgently warranted in order to predict the risk of AKI, to identify the exact mechanisms of renal injury and to suggest targeted interventions.