16.06.2020 | COVID-19 | Original Article | Ausgabe 2/2020 Zur Zeit gratis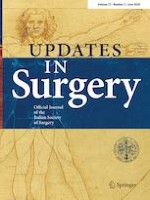 The impact of COVID-19 pandemic on surgical residency programmes in Italy: a nationwide analysis on behalf of the Italian Polyspecialistic Young Surgeons Society (SPIGC)
Zeitschrift:
Autoren:

Davide Pertile, Gaetano Gallo, Fabio Barra, Alessandro Pasculli, Paola Batistotti, Marco Sparavigna, Giuseppe Vizzielli, Domenico Soriero, Giusi Graziano, Salomone Di Saverio, Roberto Luca Meniconi, Eleonora Guaitoli, Andrea Mazzarri, SPIGC Working Group
Wichtige Hinweise
Electronic supplementary material
Davide Pertile and Gaetano Gallo shared first author position.
Members of the SPIGC Working Group are collaborators and are listed in Acknowledgements.
Publisher's Note
Springer Nature remains neutral with regard to jurisdictional claims in published maps and institutional affiliations.
Abstract
Introduction
Recently, Italy has been heavily hit by COVID-19 pandemic and today it is still one of the most affected countries in the world. The subsequent necessary lockdown decreed by the Italian Government had an outstanding impact on the daily life of the entire population, including that of Italian surgical residents' activity. Our survey aims to evaluate the impact of COVID-19 on the training programme of Italian surgical residents.
Materials and methods
We designed a 12-item-electronic anonymous questionnaire on SurveyMonkey© web application. The survey was composed of different sections concerning demographic characteristics and impacts of COVID-19 on the concrete participation in clinical, surgical and research activities. Future perspectives of responders after the pandemic were also investigated.
Results
Eighty hundred responses were collected, and 756 questionnaires were considered eligible to be included in the study analysis. Almost 35 and 27% of respondents experienced, respectively, complete interruption of surgical and clinical activities. A subgroup analysis, comparing the COVID-19 impact on clinical activities with demographics data, showed a statistically significant difference related to specialties (
p
 = 0.0062) and Italian regions (
p
 < 0.0001). Moreover, 112 residents have been moved to non-surgical units dealing with COVID-19 or, in some case, they voluntarily decided to interrupt their residency programme to support the ongoing emergency.
Conclusion
Our survey demonstrated that COVID-19 pandemic has severely impacted the educational programme of Italian surgical residents. Despite many regional differences, this survey highlighted the overall shortage of planning in the re-allocation of resources facing this unexpected health emergency.