02.08.2020 | COVID-19 | Ausgabe 4/2020 Zur Zeit gratis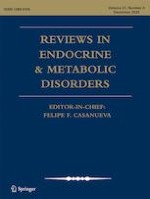 COVID-19 and diabetes mellitus: how one pandemic worsens the other
Zeitschrift:
Autoren:

William S. Azar, Rachel Njeim, Angie H. Fares, Nadim S. Azar, Sami T. Azar, Mazen El Sayed, Assaad A. Eid
Wichtige Hinweise
William S. Azar, Rachel Njeim, Angie H. Fares and Nadim S. Azar contributed equally to this work.
Publisher's note
Springer Nature remains neutral with regard to jurisdictional claims in published maps and institutional affiliations.
Abstract
In light of the most challenging public health crisis of modern history, COVID-19 mortality continues to rise at an alarming rate. Patients with co-morbidities such as hypertension, cardiovascular disease, and diabetes mellitus (DM) seem to be more prone to severe symptoms and appear to have a higher mortality rate. In this review, we elucidate suggested mechanisms underlying the increased susceptibility of patients with diabetes to infection with SARS-CoV-2 with a more severe COVID-19 disease. The worsened prognosis of COVID-19 patients with DM can be attributed to a facilitated viral uptake assisted by the host's receptor angiotensin-converting enzyme 2 (ACE2). It can also be associated with a higher basal level of pro-inflammatory cytokines present in patients with diabetes, which enables a hyperinflammatory "cytokine storm" in response to the virus. This review also suggests a link between elevated levels of IL-6 and AMPK/mTOR signaling pathway and their role in exacerbating diabetes-induced complications and insulin resistance. If further studied, these findings could help identify novel therapeutic intervention strategies for patients with diabetes comorbid with COVID-19.