24.11.2021 | COVID-19 | Gynecologic Cancers (LA Cantrell, Section Editor) | Ausgabe 12/2021 Zur Zeit gratis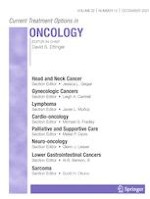 COVID-19 and Gynecologic Oncology: What Have We Learned?
Zeitschrift:
Autoren:

MD Aurora Leibold, MD Katyayani Papatla, MD Kristen P. Zeligs, MD Stephanie V. Blank
Wichtige Hinweise
Publisher's Note
Springer Nature remains neutral with regard to jurisdictional claims in published maps and institutional affiliations.
Opinion statement
COVID-19 has transformed the care we provide to gynecologic oncology patients. In addition to directly impacting the diagnosis and treatment of women with gynecologic cancer, it has affected our patient's ability to undergo recommended surveillance and has made an impact on every caregiver providing care during this time. Herein we review the current literature on the impact of COVID-19 on gynecologic oncology and highlight new approaches and innovations that have resulted in gynecologic cancer care as a result of the pandemic. The impact of COVID-19 on the field of gynecologic oncology has been profound. In addition to directly impacting the diagnosis and treatment of women with cancer, it has also challenged the very ethics with which we practice medicine. The equitable distribution of resources is paramount to upholding the Hippocratic Oath which we all invoke. The COVID-19 pandemic has stripped this oath down to its very core, forcing all medical practitioners to scrutinize who gets what resources and when. As the pandemic continues to unfold, the question remains — in the setting of a strained and overburdened healthcare system, how do we maximize beneficence to one group of patients, while maintaining non-maleficence to others? As gynecologic oncologists, we are responsible for advocating for our patients to ensure that the quality of their cancer care is not compromised, while also not overutilizing resources that are sorely needed for the care of COVID-19 victims, and not making them more likely to succumb to COVID-19 by the very nature of the treatment we provide. The effects of the pandemic are far-reaching and broad, and many of these are yet to be determined. Future studies are needed to analyze how the above-utilized strategies in GYN cancer care during the pandemic will impact the long-term outcomes of our patients.