15.09.2020 | COVID-19 | Response to COVID-19/Original Article | Sonderheft 1/2020 Zur Zeit gratis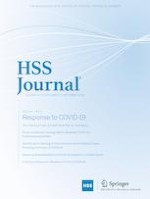 Early Peri-operative Outcomes Were Unchanged in Patients Undergoing Spine Surgery During the COVID-19 Pandemic in New York City
Zeitschrift:
Autoren:

MD Philip K. Louie, MD Lauren A. Barber, MD Kyle W. Morse, BS Marie Syku, MD, MBA Sheeraz A. Qureshi, PhD Virginie Lafage, MD Russel C. Huang, MD Alberto V. Carli
Wichtige Hinweise
Electronic supplementary material
Level of Evidence: Level III: Therapeutic Study
Abstract
Background
Healthcare resources have been greatly limited by the severe acute respiratory syndrome coronavirus 2 (SARS-CoV-2) pandemic halting non-essential surgical cases without clear service expansion protocols.
Questions/Purposes
We sought to compare the peri-operative outcomes of patients undergoing spine surgery during the SARS-CoV-2 pandemic to a matched cohort prior to the pandemic.
Methods
We identified a consecutive sample of 127 adult patients undergoing spine surgery between March 9, 2020, and April 10, 2020, corresponding with the state of emergency declared in New York and the latest possible time for 1-month surgical follow-up. The study group was matched one-to-one based on age, gender, and body mass index with eligible control patients who underwent similar spine procedures prior to the SARS-CoV-2 outbreak. Surgeries performed for infectious or oncologic indications were excluded. Intra- and post-operative complication rates, re-operations, hospital length of stay, re-admissions, post-operative visit format, development of post-operative fever and/or respiratory symptoms, and SAR-CoV2 testing.
Results
A total of 254 patients (127 SARS-CoV-2 pandemic, 127 matched controls) were included. One hundred fifty-eight were male (62%), and 96 were female (38%). The mean age in the pandemic group was 59.8 ± 13.4 years; that of the matched controls was 60.3 ± 12.3. All patients underwent general anesthesia and did not require re-intubation. There were no significant differences in 1-month post-operative complication rates (16.5% pandemic vs. 12.6% control). There was one death in the pandemic group. No patients tested positive for the virus.
Conclusion
This study represents the first report of post-operative outcomes in a large group of spine surgical patients in an area heavily affected by the SARS-CoV-2 pandemic.