10.06.2021 | COVID-19 | COVID-19 | Ausgabe 7/2021 Open Access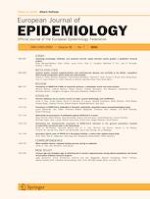 Estimating the asymptomatic proportion of SARS-CoV-2 infection in the general population: Analysis of nationwide serosurvey data in the Netherlands
Zeitschrift:
Autoren:

Scott A. McDonald, Fuminari Miura, Eric R. A. Vos, Michiel van Boven, Hester E. de Melker, Fiona R. M. van der Klis, Rob S. van Binnendijk, Gerco den Hartog, Jacco Wallinga
Wichtige Hinweise
Supplementary Information
Publisher's Note
Springer Nature remains neutral with regard to jurisdictional claims in published maps and institutional affiliations.
Abstract
Background
The proportion of SARS-CoV-2 positive persons who are asymptomatic—and whether this proportion is age-dependent—are still open research questions. Because an unknown proportion of reported symptoms among SARS-CoV-2 positives will be attributable to another infection or affliction, the
observed
, or 'crude' proportion without symptoms may underestimate the proportion of persons without symptoms that are
caused
by SARS-CoV-2 infection.
Methods
Based on two rounds of a large population-based serological study comprising test results on seropositivity and self-reported symptom history conducted in April/May and June/July 2020 in the Netherlands (
n
 = 7517), we estimated the proportion of reported symptoms among those persons infected with SARS-CoV-2 that is attributable to this infection, where the set of relevant symptoms fulfills the ECDC case definition of COVID-19, using inferential methods for the attributable risk (AR). Generalised additive regression modelling was used to estimate the age-dependent relative risk (RR) of reported symptoms, and the AR and asymptomatic proportion (AP) were calculated from the fitted RR.
Results
Using age-aggregated data, the 'crude' AP was 37% but the model-estimated AP was 65% (95% CI 63–68%). The estimated AP varied with age, from 74% (95% CI 65–90%) for < 20 years, to 61% (95% CI 57–65%) for the 50–59 years age-group.
Conclusion
Whereas the 'crude' AP represents a lower bound for the proportion of persons infected with SARS-CoV-2 without COVID-19 symptoms, the AP as estimated via an attributable risk approach represents an upper bound. Age-specific AP estimates can inform the implementation of public health actions such as targetted virological testing and therefore enhance containment strategies.