26.06.2020 | COVID-19 | Research article | Ausgabe 1/2020 Open Access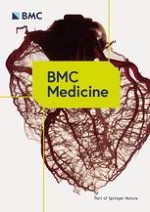 COVID-19: a retrospective cohort study with focus on the over-80s and hospital-onset disease
Zeitschrift:
Autoren:

Simon E. Brill, Hannah C. Jarvis, Ezgi Ozcan, Thomas L. P. Burns, Rabia A. Warraich, Lisa J. Amani, Amina Jaffer, Stephanie Paget, Anand Sivaramakrishnan, Dean D. Creer
Wichtige Hinweise
Supplementary information
Publisher's Note
Springer Nature remains neutral with regard to jurisdictional claims in published maps and institutional affiliations.
Abbreviations
BAME
Black and minority ethnic
PCR
Polymerase chain reaction
Background
We hypothesised that COVID-19 would disproportionately affect older patients and that these patients would be more likely to present atypically and also that there would be a significant proportion of patients who acquired the condition while already hospitalised.
In order to investigate this, we analysed our first 450 laboratory-confirmed cases of COVID-19. This comprises 77% of our cases during the first UK peak as of 25 April. We examined the demographics, ethnicity, clinical and biochemical features, presentations in older adults and hospital-onset infections. We also aimed to provide a detailed and complete picture of the disease as it might present to a busy suburban general hospital. This will provide useful information as services in the UK are remodelled in the run-up to lifting of restrictions and a possible second peak of infections.
Methods
Inpatients returning consecutive positive polymerase chain reaction (PCR) tests for SARS-CoV2 on nasopharyngeal swabs during their hospital admission were included for analysis. Data were collected retrospectively from the electronic patient record. Patients with a clinical diagnosis of COVID-19 without PCR confirmation were not included. Details of the PCR testing methodology are included in the supplementary data appendix.
Standardised data were collected on demographic features, ethnicity and the presence of co-morbidities (prior diagnosis of cardiac disease [any], hypertension, diabetes, respiratory disease [any] and immunosuppression). In those patients over 65 years of age, the Clinical Frailty Score (CFS) [
13
] was recorded where available. The presence of care needs prior to admission, including carers at home and institutional care, was recorded.
Community-onset infection was defined as a positive test within 14 days of hospital admission and hospital-onset infection if the patient had continuously been an inpatient for the 14 days prior to the positive PCR test. Data were recorded at the point of presentation, defined as the day of hospital admission (community-onset infections) or documentation of first symptom presentation in the medical notes (hospital-onset infections). Clinical data included symptom duration and presenting symptoms and signs. A fever was defined as a temperature > 37.8 °C.
Biochemical data included serum lymphocyte and neutrophil counts, C-reactive protein (CRP), procalcitonin, cardiac troponin T, lactate, D-dimer and glucose. The presence of acute kidney injury was defined according to 2012 Kidney Disease: Improving Global Outcomes guidance [
14
]. These tests were analysed by the hospital clinical laboratory; further details including normal limits and detection thresholds are included in the supplementary appendix (Additional file
1
: Table S1). Values outside the detection thresholds were entered at the threshold.
The primary outcome assessed was death vs discharge from hospital alive at the end of the hospital episode, where the patient had reached this point. Some ventilated patients were transferred to other centres, and outcome data was unavailable at the time of analysis. Early outcomes at day 5 following presentation were also captured and defined as discharged, remaining inpatient, intubated inpatient or dead. Other outcomes included length of stay and whether antibiotics were given.
Most variables were not expected to be normally distributed and were reported as median (interquartile range [IQR]). Non-parametric tests were used throughout. Continuous between-group variables were analysed using the Wilcoxon signed-rank test. The Bonferroni correction for multiple analyses was used for comparisons within tables. Categorical variables were analysed using the chi-squared test. Analysis was performed using R Statistics version 3.6.3.
Results
Discussion
We report here the characteristics of nearly 80% of the patients with confirmed COVID-19 presenting to our hospital during the early part of the UK COVID-19 outbreak. We specifically examined the presentation of disease in the over-80s and those who acquired COVID-19 in hospital.
Hospital practice in the UK has been to only admit those patients medically requiring hospitalisation, and this is therefore a much sicker cohort overall. There was also a hugely increased overall healthcare burden on the hospital during the period of the pandemic peak. A comparison of our admissions during a sample 14-day period (14 March–7 April) during 2020 and 2019 showed a 23% increase in hospital admissions, 63% of which were with PCR-confirmed COVID-19 in 2020. The death rate from these admissions was 43% in 2020 vs 7% in 2019, and the intubation rate was 17% vs 1% (unpublished data). Even though we were unable to assess the direct mechanism of death in these patients, the presence of COVID-19 clearly caused an excess in admissions, mortality and intensive care admissions compared to the previous year.
It is also notable that a high proportion of the patients admitted from local care homes (78%) did not survive to discharge. These patients were among the most frail in the cohort. Local care homes were asked at the start of the outbreak to avoid hospitalising their patients wherever possible, and these are therefore likely to have been the most unwell of all the care home patients who contracted COVID-19, as well as the overall numbers being lower. The data in this study do not allow us to comment on the risk of contracting COVID-19 in care homes. These differences in the presentation and outcomes in older adults are of utmost importance given the significantly higher mortality seen in this population and the emerging picture of how COVID-19 has affected care homes in the UK. Further research should elucidate the mechanisms by which age-related biological variance impacts on the pathogenic response in COVID-19 and will be vital to enable effective therapeutic interventions.
These patients had already had prolonged admissions for unrelated reasons and correspondingly were an older and more frail group than the population as a whole. Despite this, CRP was lower and their outcomes were no worse, reflecting the fact that they effectively acquired COVID-19 incidentally while in hospital rather than presenting due to severe infection. The peak incidence of hospital-onset infections mirrored the overall peak of community infections, and the mode of transmission remains unclear; this may include relatives visiting before they were excluded and asymptomatic infected healthcare workers. It may also have included transmission from other patients either directly or via healthcare workers. Urgent further research into this area will be crucial to enabling robust infection control policy in the ongoing management of this and future pandemics.
There are several limitations to this study. We did not collect data on some presenting features that are important, notably atypical symptoms at presentation and more detail on pre-existing comorbidities and medications. We also did not formally assess the causality of the deaths that were associated with COVID-19, although our clinical impression is that the majority of the deaths were directly linked. Furthermore, this was an observational study, and therefore, data collection was not standardised. Owing to this, and the fact that we only introduced a clinical care bundle specifying laboratory tests 2 to 3 weeks into the outbreak, there is a proportion of missing data in some of the biochemical variables. This will have affected our ability to detect more subtle signals, although does not diminish the significance of those we have reported. We also did not have follow-up data on those patients discharged and were therefore unable to assess subsequent deaths or readmissions. Despite these limitations, the size of this cohort has allowed us to present a reasonably complete picture of COVID-19 as it presented to our UK hospital.
Conclusions
We have described the patients admitting to our suburban UK hospital with COVID-19. Inpatient mortality was high, particularly among the over-80s. The presenting features overall were consistent with those reported elsewhere, but the over-80s were more likely to present with atypical symptoms. The ethnic composition of patients appeared to be similar to that of the underlying population. A significant number of patients acquired COVID-19 in hospital, the precise mode of transmission for which remains unknown.
Supplementary information
Acknowledgements
We thank Debbie Bertfield and Mark Rawle for their helpful input regarding frailty and COVID-19 in the over-80s.
Ethics approval and consent to participate
The data presented here were collected during routine clinical practice, and formal Research Ethics Committee review was not required. Approval for the study was granted by the chair of the Trust Clinical Ethics Committee. All data were de-identified prior to analysis and that the Authors had all necessary administrative permissions to access the data.
Consent for publication
Not applicable.
Competing interests
There are no competing interests to declare for any of the authors.
Open Access
This article is licensed under a Creative Commons Attribution 4.0 International License, which permits use, sharing, adaptation, distribution and reproduction in any medium or format, as long as you give appropriate credit to the original author(s) and the source, provide a link to the Creative Commons licence, and indicate if changes were made. The images or other third party material in this article are included in the article's Creative Commons licence, unless indicated otherwise in a credit line to the material. If material is not included in the article's Creative Commons licence and your intended use is not permitted by statutory regulation or exceeds the permitted use, you will need to obtain permission directly from the copyright holder. To view a copy of this licence, visit
http://​creativecommons.​org/​licenses/​by/​4.​0/​
. The Creative Commons Public Domain Dedication waiver (
http://​creativecommons.​org/​publicdomain/​zero/​1.​0/​
) applies to the data made available in this article, unless otherwise stated in a credit line to the data.
Publisher's Note
Springer Nature remains neutral with regard to jurisdictional claims in published maps and institutional affiliations.