27.05.2020 | COVID-19 | Review | Ausgabe 12/2020 Zur Zeit gratis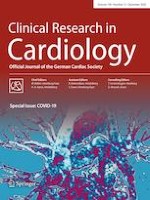 Coronavirus Disease 2019 (COVID-19) and its implications for cardiovascular care: expert document from the German Cardiac Society and the World Heart Federation
Zeitschrift:
Autoren:

Michael Böhm, Norbert Frey, Evangelos Giannitsis, Karen Sliwa, Andreas M. Zeiher
Wichtige Hinweise
For the German Cardiac Society: Michael Böhm, Norbert Frey, Evangelos Giannitsis and Andreas M. Zeiher. For the World Heart Federation: Michael Böhm and Karen Sliwa.
Abstract
Coronavirus diseases 2019 (COVID-19) has become a worldwide pandemic affecting people at high risk and particularly at advanced age, cardiovascular and pulmonary disease. As cardiovascular patients are at high risk but also have dyspnea and fatigue as leading symptoms, prevention, diagnostics and treatment in these patients are important to provide adequate care for those with or without COVID-19 but most importantly when comorbid cardiovascular conditions are present. Severe COVID-19 with acute respiratory distress (ARDS) is challenging as patients with elevated myocardial markers such as troponin are at enhanced high risk for fatal outcomes. As angiotensin-converting enzyme 2 (ACE2) is regarded as the viral receptor for cell entry and as the Coronavirus is downregulating this enzyme, which provides cardiovascular and pulmonary protection, there is ongoing discussions on whether treatment with cardiovascular drugs, which upregulate the viral receptor ACE2 should be modified. As most of the COVID-19 patients have cardiovascular comorbidities like hypertension, diabetes, coronary artery disease and heart failure, which imposes a high risk on these patients, cardiovascular therapy should not be modified or even withdrawn. As cardiac injury is a common feature of COVID-19 associated ARDS and is linked with poor outcomes, swift diagnostic management and specialist care of cardiovascular patients in the area of COVID-19 is of particular importance and deserves special attention.