20.10.2020 | COVID-19 | Short Communication | Ausgabe 1/2021 Zur Zeit gratis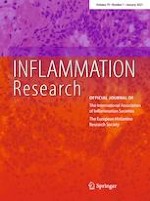 Inflammasome formation in the lungs of patients with fatal COVID-19
Zeitschrift:
Autoren:

Stefano Toldo, Rossana Bussani, Vincenzo Nuzzi, Aldo Bonaventura, Adolfo G. Mauro, Antonio Cannatà, Raghavendra Pillappa, Gianfranco Sinagra, Patrick Nana-Sinkam, Patricia Sime, Antonio Abbate
Wichtige Hinweise
Responsible Editor: John Di Battista.
Electronic supplementary material
Stefano Toldo and Rossana Bussani equally contributed to the realization of this manuscript.
Publisher's Note
Springer Nature remains neutral with regard to jurisdictional claims in published maps and institutional affiliations.
Abstract
Objective
The orf8b protein of the coronavirus SARS-CoV, analogous to SARS-CoV-2, triggers the NLRP3 inflammasome in macrophages in vitro. Deregulated inflammasome-mediated release of interleukin-1 family cytokines is important in hyper-inflammatory syndromes, like happens in SARS-CoV-2-mediated cytokine release syndrome. We propose that an intense inflammasome formation characterizes the lungs of patients with fatal COVID-19 disease due to pneumonia and acute respiratory distress syndrome (ARDS).
Methods
Samples from four patients with confirmed COVID-19 pneumonia who had been hospitalized at the Hospital of the University of Trieste (Italy) and died of ARDS and four lung samples from a historical repository from subjects who had died of cardiopulmonary arrest and had not been placed on mechanical ventilation and without evidence of pulmonary infection at postmortem examination were collected. Pathology samples had been fixed in formalin 10% at time of collection and subsequently embedded in paraffin. We conducted staining for ASC (Apoptosis-associated Speck-like protein containing a Caspase recruitment domain), NLRP3 (NACHT, LRR, and PYD domains-containing protein 3), and cleaved caspase-1.
Results
Intense expression of the inflammasome was detected, mainly in leukocytes, within the lungs of all patients with fatal COVID-19 in the areas of lung injury. The number of ASC inflammasome specks per high power fields was significantly higher in the lungs of patients with fatal COVID-19 as compared with the lungs of control subjects (52 ± 22 vs 6 ± 3,
P
 = 0.0064).
Conclusions
These findings identify the presence of NLRP3 inflammasome aggregates in the lungs of fatal COVID-19 pneumonia thus providing the potential molecular link between viral infection and cytokine release syndrome.