21.07.2020 | COVID-19 | Ausgabe 4/2020 Zur Zeit gratis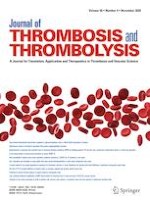 Thromboprophylaxis: balancing evidence and experience during the COVID-19 pandemic
Zeitschrift:
Autoren:

Benjamin Marchandot, Antonin Trimaille, Anais Curtiaud, Kensuke Matsushita, Laurence Jesel, Olivier Morel
Wichtige Hinweise
Publisher's Note
Springer Nature remains neutral with regard to jurisdictional claims in published maps and institutional affiliations.
Abstract
A common and potent consideration has recently entered the landscape of the novel coronavirus disease of 2019 (COVID-19): venous thromboembolism (VTE). COVID-19 has been associated to a distinctive related coagulopathy that shows unique characteristics. The research community has risen to the challenges posed by this « evolving COVID-19 coagulopathy » and has made unprecedented efforts to promptly address its distinct characteristics. In such difficult time, both national and international societies of thrombosis and hemostasis released prompt and timely responses to guide recognition and management of COVID-19-related coagulopathy. However, latest guidelines released by the international Society on Thrombosis and Haemostasis (ISTH) on May 27, 2020, followed the American College of Chest Physicians (CHEST) on June 2, 2020 showed some discrepancies regarding thromboprophylaxis use. In this forum article, we would like to offer an updated focus on thromboprophylaxis with current incidence of VTE in ICU and non-ICU patients according to recent published studies; highlight the main differences regarding ISTH and CHEST guidelines; summarize and describe which are the key ongoing RCTs testing different anticoagulation strategies in patients with COVID-19; and finally set a proposal for COVID-19 coagulopathy specific risk factors and dedicated trials.