20.06.2020 | COVID-19 | Original Scientific Report | Ausgabe 9/2020 Zur Zeit gratis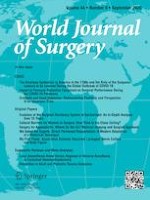 Impact of Personal Protective Equipment on Surgical Performance During the COVID-19 Pandemic
Zeitschrift:
Autoren:

Carlos Yánez Benítez, Antonio Güemes, José Aranda, Marcelo Ribeiro, Pablo Ottolino, Salomone Di Saverio, Henrique Alexandrino, Luca Ponchietti, Juan L. Blas, Juan Pablo Ramos, Elena Rangelova, Mercedes Muñoz, Carlos Yánez Sr., International Cooperation Group on PPE and Emergency Surgery
Wichtige Hinweise
Publisher's Note
Springer Nature remains neutral with regard to jurisdictional claims in published maps and institutional affiliations.
Abstract
Background
The Severe Acute Respiratory Syndrome Coronavirus 2 pandemic has exposed surgeons to hazardous working conditions, imposing the need for personal protective equipment (PPE) use during surgery. The use of such equipment may affect their non-technical skills, augment fatigue, and affect performance. This study aimed to assess the surgeons' perceptions of the impact of wearing PPE during emergency surgery throughout the pandemic.
Methods
An international cooperation group conducted an anonymous online survey among surgeons from over 30 countries, to assess perceptions about the impact of PPE use on non-technical skills, overall comfort, decision making, and surgical performance during emergency surgery on COVID-19 patients.
Results
Responses to the survey (134) were received from surgeons based on 26 countries. The vast majority (72%) were males. More than half of the respondents (54%) felt that their surgical performance was hampered with PPE. Visual impairment was reported by 63%, whereas 54% had communication impediments. Less than half (48%) felt protected with the use of PPE, and the same proportion perceived that the use of such equipment influenced their decision making. Decreased overall comfort was cited by 66%, and 82% experienced increased surgical fatigue.
Conclusions
Surgeons perceived impediment for both visibility and communication, and other non-technical skills while using PPE on emergency surgery in COVID-19 patients. Their perceived lack of protection and comfort and increased fatigue may have inhibited their optimal surgical performance. More attention should be placed in the design of more user-friendly equipment, given the possibility of a second wave of the pandemic.