30.06.2020 | COVID-19 | Research | Ausgabe 1/2020 Open Access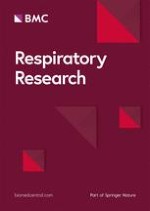 Impact of coronavirus disease 2019 on pulmonary function in early convalescence phase
Zeitschrift:
Autoren:

Yiying Huang, Cuiyan Tan, Jian Wu, Meizhu Chen, Zhenguo Wang, Liyun Luo, Xiaorong Zhou, Xinran Liu, Xiaoling Huang, Shican Yuan, Chaolin Chen, Fen Gao, Jin Huang, Hong Shan, Jing Liu
Wichtige Hinweise
Yiying Huang, Cuiyan Tan and Jian Wu contributed equally to this work.
Publisher's Note
Springer Nature remains neutral with regard to jurisdictional claims in published maps and institutional affiliations.
Abbreviation
DLCO
Diffusing capacity of the lung for carbon monoxide
FEV1
Forced expiratory volume in 1 s
PImax
Maximum static inspiratory pressures
PEmax
Maximum static expiratory pressures
R5
Airway resistance at an oscillation frequency of 5 Hz
R20
Airway resistance at an oscillation frequency of 20 Hz
Background
Coronavirus Disease 2019 (COVID-19) is a new and highly contagious respiratory disease caused by severe acute respiratory syndrome coronavirus 2 (SARS-CoV-2), which presented a risk of infection from human to human [
1
]. The current outbreak of COVID-19 has caused a global pandemic. As of 7 June, 2020, there were 6,663,304 confirmed cases and 392,802 confirmed deaths globally. It might progress rapidly, and some patients developed respiratory failure early in the disease. The knowledge about COVID-19, including clinical manifestations, pathogenesis, even treatment came from research and observation during the acute infection period [
2
,
3
]. In China, the vast majority of the patients had been successfully discharged. Until now, no study have reported early prognosis in relation to the degree of lung injury and rehabilitation in patients with COVID-19. Retrospective study showed that many patients had imaging abnormalities when discharged, a few patients even had pulmonary fibrosis. Lung function damage of patients with COVID-19 in early convalescence phase deserves attention. In order to have a more comprehensive understanding of the possible clinical outcomes of COVID-19, we conducted a retrospective study involving 57 discharged but undergoing rehabilitation COVID-19 patients. Serial lung function, lung imaging examination and exercise capacity were examined at 30 days after discharged. In addition, we compared severe patients with non-severe patients by outcome parameters.
Materials and methods
Patient selection
This is a follow up study of COVID-19 patients at 30 days after discharged from our hospital. From January 17, 2020 to March 1, 2020, a total of 103 COVID-19 patients were admitted to the Fifth Affiliated Hospital of Sun Yat-sen University. The diagnosis of COVID-19 was based on the CDC criteria. All patients had laboratory-confirmed SARS-CoV-2 infection by real-time reverse transcription polymerase chain reaction (RT-PCR) or next-generation sequencing. They all reached uniform discharge standard issued by the National Health Commission of China and had been released from the hospital over 1 month. In 30 days after discharged, patients were eligible to participate in the study if they were over 18 years of age. Patients with a previous history of pulmonary resection, neurological disease, or mental illness were excluded from our study. We obtained written informed consent from the patients before pulmonary function testing. This study was approved by the institutional ethics committee of the Fifth Affiliated Hospital of Sun Yat-sen University.
Classification
We retrospectively analyzed the medical records of these patients, and divided them into non-severe and severe groups according to the severity of the disease. Patients would be defined as severe cases if satisfied any of the following criteria: shortness of breath, RR ≥ 30 times per minute; blood oxygen saturation ≤ 93% in resting state; partial arterial oxygen pressure (PaO2)/ fraction of inspiration O2 (Fi02) ≤ 300mmmHg;respiratory failure requires mechanical ventilation; shock occurred or combined with other organ failure required ICU monitoring and treatment. Otherwise were mild cases.
Lung imaging acquisition and CT quantitative evaluation
All subjects underwent high resolution spiral CT (SOMATOM Definition Flash Siemens; Erlangen, Germany) scans in the supine position during end-inspiration. Images were reconstructed at 1.0 mm slice thickness, with 1 mm increment, 512 mm × 512 mm. The images were assessed by two radiologists, both of whom were blinded to the clinical information. We used the same method as Michael et al., to quantify pulmonary inflammation severity [
4
–
6
]. Briefly, each of the five lung lobes was assessed for degree of involvement and classified as none (0%), minimal (1–25%), mild (26–50%), moderate (51–75%), or severe (76–100%). No involvement corresponded to a lobe score of 0, minimal involvement to a lobe score of 1, mild involvement to a lobe score of 2, moderate involvement to a lobe score of 3, and severe involvement to a lobe score of 4.An overall lung "total severity score" was reached by summing the five lobe scores (range of possible scores, 0–20). All CT scores were independently performed by two respiratory doctors. Agreement was reached by consensus.
6 min walk test
Six min walk test (6MWT) is an exercise test that evaluates the functional status which is relevant to daily activities of patients with cardiopulmonary disease. The walking distance is closely related to gender, age and height, conventionally need a hierarchical analysis according to the above parameters. However, the sample size of our study was small which was not suitable for stratified analysis based on age, gender and height. So we estimated the walking distance of healthy people of the same gender, age and height according to reference equations for the 6MWT in healthy adults [
7
]. Then we calculated the ratio of measured value of the patients to the predicted value of the healthy person in fair condition. By comparing the ratio of two groups we could see whether there was difference in 6MWD between non-severe and severe COVID-19 patients.
Pulmonary function test and respiratory muscle strength measurement
Each subject underwent a standard pulmonary function test (Master Screen, Jaeger, German). Recorded parameters include: total lung volume (TLC), forced vital capacity (FVC), residual volume (RV), forced expiratory volume in the first second (FEV1), maximum expiratory flow rate (MMEF75/25), FEV1 / FVC ratio, and diffusing capacity of the lung for carbon monoxide (DLCO). Impuse oscillation system (IOS) was used to measure airway viscosity resistance at an oscillation frequency of 5 Hz(R5), and central airway resistance at an oscillation frequency of 20 Hz (R20). Mouth pressure gauges can measure the maximum static inspiratory pressure (PImax) or maximum static expiratory pressure (PEmax) through a flanged cigarette holder. All subjects used this simple method to gauge inspiratory and expiratory muscle strength. The spirometry, DLCO, and respiratory muscle strength measurements were expressed as a percentage of predicted normal values.
To protect lung function laboratory staff, lung function tests were performed in a room with negative pressure device. Staff wore personal protective equipment, including N95 respirators, protective glasses, gloves and gowns. In addition, each patient used disposable virus and bacterial filters during the test.
Statistics
Statistical analysis was performed using Statistical Package for Social Science (SPSS) Version 13.0. Measurement data was expressed as mean ± standard deviation. Continuous variables were compared using independent-sample t test, whereas the rank sum test was used for nonparametric data. Comparison of proportion was evaluated by Chi-square test. Spearman correlation test was used to detect the correlations between lung function and lung total severity score. All statistical tests were two tailed. Statistical significance was taken as p<0.05.
Results
Discussion
More than half of the patients experienced a decrease in respiratory muscle strength. Approximately 29.8% of patients in our study were severe or critical, who had hypoxemia during hospitalization, requiring supplemental oxygen and bed rest, and prolonged bed rest might lead to muscle disorders. In addition, systemic use of corticosteroids might cause steroid myopathy. But when grouped by the administration of steroid, no statistical significance was found in respiratory muscle strength between the glucocorticoid group and the regular group. This result indicated that corticosteroid was not the main cause of respiratory muscle weakness. In fact, there was no difference on declining respiratory muscle strength between severe and non-severe groups. However, the direct effect of virus on respiratory muscles needs further research.
There are several limitations to this study. Firstly, this is a cross-sectional study with small sample size in stratified analysis, only provides a short follow-up. The heterogeneity of our findings is not comprehensive. Secondly, only 57 of 102 COVID-19 patients (56%) in our hospital had completed the serial assessments, and the results might not be representative of the entire group. Lastly, although full lung function tests and 6MWT were conducted in our patients, we did not perform cardiopulmonary exercise testing, as many patients complained of generalized muscle weakness on follow-up. Meanwhile, labor intensity of CPET might be too high for patients in early recovery period.
In conclusion, impaired diffusing-capacity, respiratory muscle strength decrease, and lung imaging abnormalities were detected in more than half of the COVID-19 patients in early convalescence phase. Compared with non-severe cases, severe patients had a higher incidence of DLCO impairment and encountered more TLC decrease and 6MWD decline. Longer follow-up studies in COVID-19 patients should be performed to investigate the clinical outcome of recovered COVID-19 patients.
Acknowledgements
Yiying Huang, Cuiyan Tan and Jian Wu contributed equally to this work.
Ethics approval and consent to participate
This study was approved by the institutional ethics committee of the Fifth Affiliated Hospital of Sun Yat-sen University.
Consent for publication
Consent for publication is not applicable.
Competing interests
The authors declare that they have no competing interests.
Open Access
This article is licensed under a Creative Commons Attribution 4.0 International License, which permits use, sharing, adaptation, distribution and reproduction in any medium or format, as long as you give appropriate credit to the original author(s) and the source, provide a link to the Creative Commons licence, and indicate if changes were made. The images or other third party material in this article are included in the article's Creative Commons licence, unless indicated otherwise in a credit line to the material. If material is not included in the article's Creative Commons licence and your intended use is not permitted by statutory regulation or exceeds the permitted use, you will need to obtain permission directly from the copyright holder. To view a copy of this licence, visit
http://​creativecommons.​org/​licenses/​by/​4.​0/​
. The Creative Commons Public Domain Dedication waiver (
http://​creativecommons.​org/​publicdomain/​zero/​1.​0/​
) applies to the data made available in this article, unless otherwise stated in a credit line to the data.
Publisher's Note
Springer Nature remains neutral with regard to jurisdictional claims in published maps and institutional affiliations.