31.07.2020 | COVID-19 | Research | Ausgabe 1/2020 Open Access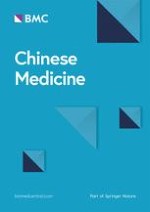 Potential mechanism prediction of Cold-Damp Plague Formula against COVID-19 via network pharmacology analysis and molecular docking
Zeitschrift:
Autoren:

Lin Han, Xiu-Xiu Wei, Yu-Jiao Zheng, Li-Li Zhang, Xin-Miao Wang, Hao-Yu Yang, Xu Ma, Lin-Hua Zhao, Xiao-Lin Tong
Wichtige Hinweise
Lin Han, Xiu-Xiu Wei, and Yu-Jiao Zheng contributed equally to this work
Supplementary information
Publisher's Note
Springer Nature remains neutral with regard to jurisdictional claims in published maps and institutional affiliations.
Abbreviations
TCM
Traditional Chinese medicine
SARS-CoV-2
Severe acute respiratory syndrome coronavirus 2
NCP
Novel coronavirus pneumonia
WHO
World Health Organization
TCMSP
Traditional Chinese Medicine Systems Pharmacology
TCMID
Traditional Chinese Medicines Integrated Database
SEA
Similarity ensemble approach
PPI
Protein–protein interaction
STRING
Search Tool for the Retrieval of Interacting Genes/Proteins database
ClusterONE
Clustering with Overlapping Neighborhood Expansion
MCC
Mixed character calculation
KEGG
Kyoto Encyclopedia of Genes and Genomes
Background
Thus, in this study, we utilized network pharmacology and the related technology to explore the main bioactive components of CDPF and predict the effective targets of these active components. Consequently, we proposed potential mechanisms underlying the effects of CDPF in the treatment of COVID-19 at a molecular level, which might provide theoretical support for the wider application of CDPF in the fight against COVID-19.
Methods
Collection of ingredients of CDPF and screening
The components of herbs used in CDPF were retrieved from the Traditional Chinese Medicine Systems Pharmacology (TCMSP
)
database (
http://​tcmspw.​com/​tcmsp.​php
) and Traditional Chinese Medicines Integrated Database (TCMID) (
http://​www.​megabionet.​org/​tcmid/​
) [
25
], and related references. The candidate ingredients from the TCMSP were retained only if their oral bioavailability (OB) ≥ 30% and if their drug likeness (DL) ≥ 0.18 [
26
]. Candidate ingredients without potential target information were excluded. The properties of ingredients collected through the TCMID and literature reviews were retrieved from the Swiss ADME database (
http://​www.​swissadme.​ch/​
). The screening criterion for gastrointestinal GI absorption was set as high, and DL is satisfied with both "yes" at the same time [
27
]. The structures and SMILES format files of the compounds were obtained from the PubChem (
https://​pubchem.​ncbi.​nlm.​nih.​gov/​
) database [
28
].
Construction of targets related to the identified compounds
To obtain the target of each identified compound, putative targets were predicted from three databases: the TCMSP, similarity ensemble approach (SEA) (
http://​sea.​bkslab.​org
) [
29
], and STITCH (
http://​stitch.​embl.​de/​
) database [
30
]. The SMILES format of the identified compounds was uploaded to the STITCH and SEA databases with the "
Homo sapiens
" setting. Afterward, the target proteins corresponding to the compounds screened from the three target databases were standardized in the UniProt (
https://​www.​uniprot.​org
) database, with the properties set to "reviewed" and "human" [
31
]. Finally, the targets from the three databases were merged, and the duplicated targets were removed. A Venn Diagram (
http://​bioinformatics.​psb.​ugent.​be/​webtools/​Venn/​
) was used to filter the repeated targets among active components of herbs and to construct the herbs—ingredients—targets network using Cytoscape v.3.2.1 software.
Target dataset for COVID-19
COVID-19-related targets were retrieved from the Human Gene Database (GeneCards,
https://​www.​genecards.​org/​
) [
32
] with the keyword "novel coronavirus pneumonia." The targets were also sent to the UniProt Database for normalization.
Protein‒protein interaction
To clarify the interaction between CDPF-related targets and COVID-19 targets, we screened for overlaps between CDPF-related targets and COVID-19 target-related targets. Then, we uploaded the list of overlapping proteins to the Search Tool for the Retrieval of Interacting Genes/Proteins database (STRING) v.11.0 (
https://​string-db.​org/​
) for PPI analysis [
33
], with the species limited to "
Homo sapiens
" and the confidence score cut-off set at 0.4, and the rest of the settings were default. Finally, the final PPIs network was established.
Network construction and analysis
We constructed a PPI network for active ingredients of CDPF and putative COVID-19-related targets of these ingredients based on STRING, and applied Cytoscape v.3.2.1 software to visualize and analyse the interaction network [
34
]. To study further into the network, the candidates were screened with clustering. Clustering with the Overlapping Neighborhood Expansion (ClusterONE) plug-in of the Cytoscape software was employed to mine the highly interacting gene modules [
35
], with the minimum size parameter set to 3. The cytoHubba plug-in of the Cytoscape software was used to obtain the top-10 genes, which fetches the shortest path among a group of nodes, based on a mixed character calculation (MCC) score [
36
].
Gene ontology-enrichment and pathway-enrichment analyses
The candidate genes screened by ClusterONE were further analysed to understand their gene ontology (GO) function, by using the Cytoscape plug-in ClueGO to annotate and visualise the interrelations of terms and functional groups in biological networks. The relevant biological processes (BP), molecular functions (MF), cellular components (CC), and Kyoto Encyclopedia of Genes and Genomes (KEGG) pathway-enrichment analysis were selected, with a threshold value of
p
 < 0.05 and a kappa score ≥ 0.4.
Molecular docking
Through the above-mentioned cytoHubba analysis, the hub genes for the treatment of COVID-19 were obtained. The top hub gene and other key genes with the more connected active component in herbs were linked by molecular docking. The structural formula (SDF format) of the compounds were downloaded from the PubChem database and converted to PDB format with Open babel v.2.4.1 [
37
] from the RCSB Protein Data Bank (PDB,
https://​www.​rcsb.​org/​
) to obtain the crystal structure of the core target [
38
]. The targets were processed by removing water, adding hydrogen, optimising amino acids, and selecting the magnetic field, and the pdbqt format was saved as a pair acceptor. Atomic charges and assigned atom types were added to compounds in the PDB format, and the pdbqt format was saved as a docked ligand. The active site for molecular docking was determined and size was set. Finally, Autodock Vina v.1.1.2 was run to perform molecular docking [
39
]. PyMOL v.2.3 software [
40
], and Molecular Operating Environment v.2.2 (MOE) software [
41
] were used to visualize the docking results, and based on the binding conformations of the docking results of each compound, the docking results with lower binding energy and better conformation were selected.
Results
Discussion
TCM prescriptions are rich in resource-based chemical components, with complex chemical structures, different targets, and diverse action pathways, which work together to exert their unique clinical efficacy. In order to explain the therapeutic basis of CDPF against COVID-19 scientifically, this study revealed the active ingredients and potential molecular mechanism by which CDPF treatment is effective against COVID-19, and provides a reference basis for the wider application and further mechanistic investigations of CDPF in the fight against COVID-19.
First, we considered the compound's feasibility for use as a drug, based on the database of TCMSP and TCMID and related references, combining the OB (or GI absorption) and DL values of the compound. Consequently, 193 active compounds of CDPF were assessed and 949 candidate targets of these active compounds were screened through drug target-prediction databases. Venn plots of these candidate targets showed that several herbs shared common targets; for example, the CG, GHX, JMY, JSZ, MH, and TLZ shared up to 62 targets, illustrating the synergy between herbs. We thus constructed an herbs—ingredients—targets network, which intuitively reflected the characteristics of CDPF, which has multiple components and targets.
We retrieved 259 candidate COVID-19 targets from the GeneCards database. Through target mapping, we found 71 targets in common between CDPF active component-targets and these disease targets, which were considered potential targets for CDPF in the treatment of COVID-19. To identify functional connections among these common targets, PPIs were predicted using STRING. We carried out module analysis on a PPI network via the ClusterONE plug-in in Cytoscape; modularization is an important step, as it helps to reduce the noise of the data. By modularization, the most significant cluster (Density = 0.438, Quality = 0.874, p < 0.001) was obtained, which contained 68 seed proteins. We subsequently performed GO and KEGG analyses of these seed proteins.
Using ClueGo enrichment analysis, significant biological processes related to the anti-COVID-19 effects of CDPF were identified. These mainly focused on four areas: (1) Cellular responses to external stimuli, such as cellular response to external stimulus, positive regulation of response to external stimulus, response to extracellular stimulus, cellular response to biotic stimulus, and even receptor-mediated virion attachment to host cell. (2) Regulation of blood production and circulation, such as regulation of vasculature development, platelet activation, positive regulation of hemopoiesis, and regulation of blood vessel diameter. SARS-CoV-2 may cause blood clotting and trigger the risk of stroke [
47
–
49
]; the above biological processes may be effective against the occurrence of blood clotting. (3) Free radical regulation, such as reactive oxygen species metabolic process, reactive oxygen species biosynthetic process, regulation of nitric oxide biosynthetic process, and response to reactive oxygen species. Some studies have indicated that high levels of reactive oxygen species and other free radicals are generated after virus invasion, thereby inducing damage to the organism [
50
–
52
]. These biological functions involve the regulation of free radical production and metabolism. (4) Immune regulation and anti-inflammatory effects, such as cytokine production, regulation of cytokine biosynthetic process, regulation of inflammatory response, regulation of leukocyte migration, regulation of cytokine biosynthetic process, regulation of production of molecular mediator of immune response, regulation of leukocyte migration, leukocyte homeostasis, B cell proliferation, T cell migration, lymphocyte activation involved in immune response, regulation of chemokine production, regulation of acute inflammatory response, regulation of immunoglobulin production, positive regulation of lymphocyte proliferation. In order to fight against a viral invasion, the organism stimulates a series of immune responses. Leukocytes quickly migrate to the site of the virus invasion to surround and phagocytize the virus [
53
,
54
]. As the virus continues to replicate, B lymphocytes are activated by antigens, forming plasma cells, and producing immunoglobulins (antibodies), and then antigen–antibody binding participates in the humoral immune response through the blood and body fluids [
55
,
56
]. Moreover, a large number of cytokines are released by immune cells to play an anti-viral role; these include ILs, interferons, TNFs, colony stimulating factors, chemokines, and growth factors [
57
–
59
]. However, while the body produces an immune response to eliminate the virus, the cytokines secreted by the immune cells activate further immune cells, which in turn produce more cytokines, and induce a "cytokine storm." Eventually, the immune system begins to attack the normal cells of the host [
60
,
61
]. This reflects two-way regulation: on the one hand, the body can quickly produce an immune response to play a role in eliminating the virus; on the other hand, it can regulate the production and secretion of cytokines to avoid the occurrence of a cytokine storm, which would cause damage to the organism.
KEGG pathway analysis showed that CDPF mainly regulates disease pathways induced by viruses, such as hepatitis B, influenza A, HTLV-I infection, and viral myocarditis. Additionally, CDPF regulates pathways of diseases caused by external organisms, such as bacteria or worms, including pertussis, leishmaniasis, chagas disease, and toxoplasmosis, etc. Immune and inflammatory pathways, such as antigen processing and presentation, natural killer cell mediated cytotoxicity [
62
], Fc epsilon RI signaling pathway, associating with the secretion of cytokines, such as TNF-α, contributing to inflammatory responses [
63
], TNF signaling pathway [
64
], and MAPK signaling pathway [
65
], and inflammatory disease-related pathways, such as IBD, are also involved. Sphingolipid signaling pathway utilizes second messenger functions involved in a variety of cellular signalling pathways; sphingolipids appear to be mediators of inflammation and are novel therapeutic targets in inflammatory disease [
66
]. CDPF also targeted the AGE-RAGE signaling pathway, which is involved in diabetic complications. Diabetes mellitus is a major comorbidity complicating COVID-19, and the association between glycaemic control and prognosis in patients with comorbid COVID-19 and diabetes has been reported [
67
]. ACE2, a gene involved in the renin-angiotensin system, has been shown to be a therapeutic target in COVID-19, as SARS-CoV-2 uses ACE2 as a receptor to enter host cells [
68
,
69
]. In addition, pathways related to apoptosis, longevity, and estrogen signalling are also regulated by CDPF.
Moreover, in the PPI network, the top 10 targets (IL6, TNF, IL10, MAPK8, MAPK3, CXCL8, CASP3, PTGS2, TP53, and MAPK1) were regarded as hub genes that may play important roles in the treatment of COVID-19 by CDPF and are involved in the regulation of immunity and inflammation. For example, TNF has immune regulatory, proinflammatory [
70
], and anti-viral functions [
71
], MAPK8 modulates lymphocyte homeostasis [
72
], IL10 is generally considered to be an anti-inflammatory cytokine [
73
,
74
], but production of IL-10 has also been shown to be detrimental during high-dose primary influenza challenge [
75
]. CXCL8 increases recruitment of principal human neutrophils and is a major inflammatory mediator [
76
], while PTGS2 is also an inflammatory marker [
77
]. The most notable factor was IL6, which plays a key role in the cytokine storm [
78
,
79
], and is used as a clinical early warning index in the diagnosis and treatment of COVID-19 [
80
,
81
]. IL6 plays a central role in the acute inflammatory response, and a long duration of its release can also be used to assess the severity of infection and judge prognosis [
82
,
83
]. Dynamic observation of IL-6 levels can assist in understanding the progression of infectious diseases and the response to treatment [
84
,
85
].
We then performed docking studies for IL6, using the critical ingredients quercetin and luteolin as ligands, and for ACE2, the receptor by which SARS-CoV-2 typically enters host cells, with its ligands,
l
-tyrosine and
l
-phenylalanine. Molecular docking allows assessment of whether it is thermodynamically possible for the ligand and protein to bind. The binding energies of these docking results further helped to refine the targets of CDPF. Finally, the vina scores of the active compounds with the key targets were all negative and less than −6, and their interaction points were revealed, and demonstrated that quercetin and luteolin, and
l
-tyrosine and
l
-phenylalanine had good binding activities to IL6 and ACE2, respectively.
Conclusions
In this study, we systematically analysed the potential mechanism by which CDPF is effective in the treatment of COVID-19, based on network pharmacology. A CDPF—herbs—ingredients—targets—pathways—COVID-19 network was constructed (Fig.
6
). The results demonstrated a synergistic effect between herbs and illustrated that CDPF could play pharmacological roles in the treatment of COVID-19 through multi component—multi target—multi pathway effects at the molecular level, mainly involving anti-viral, immune-regulatory, and anti-inflammatory actions. These findings may offer a reference basis for further investigations of the mechanism by which CDPF exerts effects against COVID-19.
×
Supplementary information
Acknowledgements
Not applicable.
Ethics approval and consent to participate
Not applicable.
Consent for publication
Not applicable.
Competing interests
The authors declare no conflict of interest.
Open Access
This article is licensed under a Creative Commons Attribution 4.0 International License, which permits use, sharing, adaptation, distribution and reproduction in any medium or format, as long as you give appropriate credit to the original author(s) and the source, provide a link to the Creative Commons licence, and indicate if changes were made. The images or other third party material in this article are included in the article's Creative Commons licence, unless indicated otherwise in a credit line to the material. If material is not included in the article's Creative Commons licence and your intended use is not permitted by statutory regulation or exceeds the permitted use, you will need to obtain permission directly from the copyright holder. To view a copy of this licence, visit
http://​creativecommons.​org/​licenses/​by/​4.​0/​
. The Creative Commons Public Domain Dedication waiver (
http://​creativecommons.​org/​publicdomain/​zero/​1.​0/​
) applies to the data made available in this article, unless otherwise stated in a credit line to the data.
Publisher's Note
Springer Nature remains neutral with regard to jurisdictional claims in published maps and institutional affiliations.