03.02.2021 | COVID-19 | Review | Ausgabe 1/2021 Zur Zeit gratis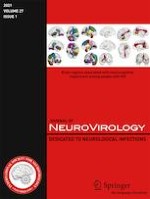 Potential mechanisms of cerebrovascular diseases in COVID-19 patients
Zeitschrift:
Autoren:

Manxue Lou, Dezhi Yuan, Shengtao Liao, Linyan Tong, Jinfang Li
Wichtige Hinweise
Publisher's Note
Springer Nature remains neutral with regard to jurisdictional claims in published maps and institutional affiliations.
Abstract
Since the outbreak of coronavirus disease 2019 (COVID-19) in 2019, it is gaining worldwide attention at the moment. Apart from respiratory manifestations, neurological dysfunction in COVID-19 patients, especially the occurrence of cerebrovascular diseases (CVD), has been intensively investigated. In this review, the effects of COVID-19 infection on CVD were summarized as follows: (I) angiotensin-converting enzyme 2 (ACE2) may be involved in the attack on vascular endothelial cells by severe acute respiratory syndrome coronavirus-2 (SARS-CoV-2), leading to endothelial damage and increased subintimal inflammation, which are followed by hemorrhage or thrombosis; (II) SARS-CoV-2 could alter the expression/activity of ACE2, consequently resulting in the disruption of renin-angiotensin system which is associated with the occurrence and progression of atherosclerosis; (III) upregulation of neutrophil extracellular traps has been detected in COVID-19 patients, which is closely associated with immunothrombosis; (IV) the inflammatory cascade induced by SARS-CoV-2 often leads to hypercoagulability and promotes the formation and progress of atherosclerosis; (V) antiphospholipid antibodies are also detected in plasma of some severe cases, which aggravate the thrombosis through the formation of immune complexes; (VI) hyperglycemia in COVID-19 patients may trigger CVD by increasing oxidative stress and blood viscosity; (VII) the COVID-19 outbreak is a global emergency and causes psychological stress, which could be a potential risk factor of CVD as coagulation, and fibrinolysis may be affected. In this review, we aimed to further our understanding of CVD-associated COVID-19 infection, which could improve the therapeutic outcomes of patients. Personalized treatments should be offered to COVID-19 patients at greater risk for stroke in future clinical practice.