28.04.2020 | COVID-19 | Miscellaneous | Ausgabe 7/2020 Zur Zeit gratis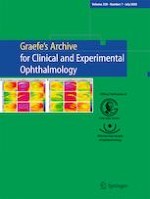 Response of ophthalmologists in Israel to the novel coronavirus (2019-nCoV) outbreak
Autoren:

Lauren M. Wasser, Elishai Assayag, Maria Tsessler, Yishay Weill, Michal Becker-Cohen, David Zadok
Wichtige Hinweise
Lauren M. Wasser, Elishai Assayag and Maria Tsessler contributed equally to this work.
Publisher's note
Springer Nature remains neutral with regard to jurisdictional claims in published maps and institutional affiliations.
Abstract
Purpose
The coronavirus disease (COVID-19) pandemic has evolved into a formidable healthcare crisis. Ophthalmologists are at daily personal risk of acquiring and transmitting the virus. Implementation of official practical and protective guidelines can be challenging and is often absent. The purpose of this study was to describe the status of ophthalmology practice in Israel, at the early stages of the outbreak.
Methods
A 17-item questionnaire was distributed to ophthalmologists practicing in Israel. Data was obtained regarding demographics and clinical and surgical practice during the pandemic.
Results
One hundred and sixty-seven ophthalmologists completed the survey from all regions of Israel. The survey was distributed during the early stages of the outbreak. At this time, no official government guidelines were in place. Most respondents reported no reduction of elective clinic visits and surgeries and no utilization of triage questionnaires. COVID-19 guidelines were reportedly promulgated to hospital ophthalmologists but not to community and private physicians. Personal protective equipment (PPE) measures were reportedly utilized; however, many respondents often acquired them individually. A majority of respondents advocated that healthcare institutions limit clinic and surgery services to emergency services.
Conclusion
During the critical early stages of the COVID-19 outbreak in Israel, this study emphasizes the delay in development of emergency guidelines, necessary to protect patients and ophthalmologists from this highly transmissible disease.