20.10.2021 | COVID-19 | Original Article | Ausgabe 8/2021 Open Access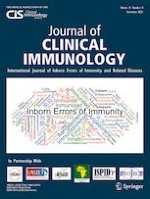 SARS-CoV-2 Vaccine Induced Atypical Immune Responses in Antibody Defects: Everybody Does their Best
Zeitschrift:
Autoren:

Ane Fernandez Salinas, Eva Piano Mortari, Sara Terreri, Concetta Quintarelli, Federica Pulvirenti, Stefano Di Cecca, Marika Guercio, Cinzia Milito, Livia Bonanni, Stefania Auria, Laura Romaggioli, Giuseppina Cusano, Christian Albano, Salvatore Zaffina, Carlo Federico Perno, Giuseppe Spadaro, Franco Locatelli, Rita Carsetti, Isabella Quinti
Wichtige Hinweise
Supplementary Information
Rita Carsetti and Isabella Quinti have contributed equally to this work.
Publisher's Note
Springer Nature remains neutral with regard to jurisdictional claims in published maps and institutional affiliations.
Introduction
We present here data on early immune responses after BNT162b2 immunization. In a cohort of immunized PAD patients, naive for SARS-CoV-2 infection or previously infected, we measured Spike-specific B- and T-cells and serum antibodies before immunization and one week after the second dose of the BNT162b2 vaccine. Results showed lack of antibody responses in the majority of patients with Common Variable Immune Deficiencies (CVID), and in all patients with X-linked Agammaglobulinemia (XLA). CVID patients generated atypical B-cell responses, as well as a variable response to the vaccination in terms of Spike-specific T-cells. XLA patients produced specific T-cell responses at the same extent of HD.
Methods
Study Design and Patients
We studied patients regularly followed by the Italian Care Centers for adults with primary immune deficiencies in Rome and Naples. The study was carried out in 47 patients with PAD who agreed to undergo SARS-CoV-2 immunization. Diagnosis of CVID and XLA was done according to the ESID criteria (
www.​ESID.​com
). We also included 28 immunized age-matched health care workers of the Bambino Gesù Children Hospital as healthy controls (HD). Eligible patients were informed on the study, including its safety profile and supply procedures, and signed the informed consents for vaccination and for the immunological study. The BNT162b2 vaccine was administered as prescribed, in two doses, 21 days apart. Two blood samples were obtained from each participant for serological and cellular immunity assessment at time 0 (T0), before the first dose, and seven days after the second dose (T1). During the study, patients were allowed to continue their therapies, and were monitored for their clinical status. The study was approved by the Ethical Committee of the Sapienza University of Rome (Prot. 0521/2020, July 13, 2020). The study was performed in accordance with the Good Clinical Practice guidelines, the International Conference on Harmonization guidelines, and the most recent version of the Declaration of Helsinki.
Cell Isolation and Cryopreservation
Heparinized peripheral blood mononuclear cells (PBMCs) were isolated by Ficoll Paque™ Plus 206 (Amersham PharmaciaBiotech) density-gradient centrifugation and immediately frozen and stored in liquid nitrogen until use. The freezing medium contained 90% Fetal Bovine Serum (FBS) and 10% DMSO.
Detection of Antigen-Specific B-Cells
To detect SARS-CoV-2 specific B-cells, biotinylated protein antigens were individually multimerized with fluorescently labeled streptavidin at 4 °C for 1 h. Recombinant biotinylated SARS-CoV-2 Spike (S1 + S2; aa16-1211) were purchased from R&D systems (BT10549). RBD were generated in-house and biotinylation was performed using EZ-LinkTM Sulfo-NHS-LC-Biotin reaction kit (ThermoScientific) following the manufacturer's standard protocol and dialyzed overnight against PBS. Recombinant biotinylated Spike was mixed with streptavidin BUV395 (BD Bioscience) and streptavidin PE (BD Bioscience) at 25:1 ratio and 20:1 ratio, respectively. Biotinylated RBD (kindly provided by Takis) was mixed with streptavidin-FITC (BD Bioscience) at 2.5:1 ratio. Streptavidin PE-Cy7 (BD Bioscience) was used as a decoy probe to gate out SARS-CoV-2 non-specific streptavidin-binding B-cells. The antigen probes individually prepared as above were then mixed in Brilliant Buffer (BD Bioscience). 5 × 10 6 previously frozen PBMC samples were prepared and stained with antigen probe cocktail containing 100 ng Spike per probe (total 200 ng), 27.5 ng of RBD and 20 ng of streptavidin-PE-Cy7 at 4 °C for 30 min to ensure maximal staining quality before surface staining with antibodies (listed in Supplementary materials: Antibody for staining) was performed in Brilliant Buffer at 4 °C for 30 min. MBCs were defined as CD19 + CD24 + CD27 + CD38-, ATMs were identified as CD19 + CD27-CD24-CD38- , activated MBCs were gated as CD19 + CD27 + CD24-CD38-, and PBs were identified as CD19 + CD24-CD38 +  + CD27 +  + . B-cells specific for SARS-CoV-2 Spike protein were distinguished by their ability to bind biotin-labeled recombinant Spike into S + (PE single positive) or S +  + (PE-BUV395 double positive).
Stained PBMC samples were acquired on FACS LSRFortessa (BD Bioscience). At least 4 × 10 6 cells were acquired and analyzed using FlowJo10.7.1 (BD Bioscience). Phenotype analysis of antigen-specific B-cells was performed only in subjects with at least 10 cells detected in the respective antigen-specific gate.
Ex Vivo ELISpot Assay for IFNγ Detection
We used an IFNγ ELISpot assay (Mabtech), as described previously [
16
]. Briefly, isolated PBMCs were plated in duplicate, 2 × 10
5
cells/well, stimulated with 1 µg/ml CRUDE PepMix™ SARS-CoV-2 (Spike Glycoprotein, JPT), and incubated for 24 h at 37 °C. As a positive control, PBMCs were stimulated with 5 µg/ml of phytohemagglutinin-P (PHA, Sigma). As negative control, PBMCs were plated in serum free CellGenixTM GMP (Cell Genix, GMBH). The IFN
γ
 + spot-forming Unit (SFU) was counted with EliScan (Epson) by Automated ELisa-Spot Assay Video Analysis Systems (A.EL.VIS). Data were presented as the percentage of IFN
γ
SFUs obtained after pepMix stimulation, compared to the total SFUs obtained in the positive control condition (PHA).
ELISA for Specific IgG, IgA, and IgM Detection
A semi-quantitative in vitro determination of human IgG and IgA antibodies against the SARS-CoV-2 was performed on serum samples by using the Anti-SARS-CoV-2 Spike ELISA (EUROIMMUN), according to the manufacturer's instructions. Values were then normalized for comparison with a calibrator. Results were evaluated by calculating the ratio between the extinction of samples and the extinction of the calibrator. Results are reported as the ratio between OD sample and OD calibrator. The ratio interpretation was as follows: < 0.8 = negative, ≥ 0.8 to < 1.1 = borderline, ≥ 1.1 = positive. To detect IgM anti-RBD we developed an in-house ELISA [
17
]. 96-well plates (Corning) were coated for 1 h at 37 °C with 1 μg/mL of purified SARS-CoV-2 RBD protein (Sino Biological). After washing with PBS 1 × /0.05% Tween and blocking with PBS 1 × /1% BSA, plates were incubated for 1 h at 37 °C with diluted sera (1:100). After washing again, plates were incubated for 1 h at 37 °C with peroxidase-conjugated goat anti-human IgM antibody (Jacksons ImmunoResearch Laboratories). The assay was developed with o-phenylenediamine tablets (Sigma-Aldrich) as a chromogen substrate. Absorbance at 450 nm was measured, and IgM concentrations were calculated by interpolation from the standard curve based on serial dilutions of monoclonal human IgM antibody against SARS-CoV-2 Spike-RBD (Invivogen).
Statistical Analysis
Data from CVID and XLA patients have been separately analyzed and compared with data of age-matched controls (HD). Demographics were summarized with descriptive statistics (median and IQR for continuous values). Immunological, and clinical variables were compared between the different study times. A univariate analysis assessed the impact of variables of interest. Values were compared by the non-parametric Kruskal–Wallis test and, if not significant, the Wilcoxon matched pair signed-rank test or the two-tailed Mann–Whitney U-test were used. Differences were deemed significant when
P
 < 0.05. Statistical Package for Social Sciences version 15 (SPSS Inc., 233 South Wacker Drive, 11th Floor, Chicago) has been used for the analysis.
Results
Discussion
Although the natural course of COVID-19 is primarily characterized by the function of the innate immune system, with a secondary involvement of T- and B-cells, vaccines are designed to force the adaptive immune system to generate neutralizing antibodies and memory B- and T-cells that effectively protect from COVID-19.
Based on these data, how can we explain the paucity of symptoms or the mild COVID-19 course in PAD patients, and what might we expect after immunization?
In summary, a minority of PAD patients showed adaptive, atypical immune responses after SARS-CoV-2 immunization. If these responses to vaccination might result in a partial protection from infection or reinfection is now unknown, since we do not know the levels of antibodies or the frequency of specific B- and T-cells required to protect from the infection.
Declarations
Ethical Approval
The study was approved by the Ethical Committee of the Sapienza University of Rome (Prot. 0521/2020, July 13, 2020).
Conflict of interest
Authors declare that they have no conflict interest.
Consent to Participate/Publication
All participants signed the informed consents for vaccination and for the immunological study and provided consent for publication of data.
Open Access
This article is licensed under a Creative Commons Attribution 4.0 International License, which permits use, sharing, adaptation, distribution and reproduction in any medium or format, as long as you give appropriate credit to the original author(s) and the source, provide a link to the Creative Commons licence, and indicate if changes were made. The images or other third party material in this article are included in the article's Creative Commons licence, unless indicated otherwise in a credit line to the material. If material is not included in the article's Creative Commons licence and your intended use is not permitted by statutory regulation or exceeds the permitted use, you will need to obtain permission directly from the copyright holder. To view a copy of this licence, visit
http://​creativecommons.​org/​licenses/​by/​4.​0/​
.
Supplementary Information
Below is the link to the electronic supplementary material.
Publisher's Note
Springer Nature remains neutral with regard to jurisdictional claims in published maps and institutional affiliations.