28.03.2020 | COVID-19 | Guidelines | Ausgabe 5/2020 Zur Zeit gratis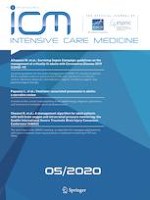 Surviving Sepsis Campaign: guidelines on the management of critically ill adults with Coronavirus Disease 2019 (COVID-19)
Zeitschrift:
Autoren:

Waleed Alhazzani, Morten Hylander Møller, Yaseen M. Arabi, Mark Loeb, Michelle Ng Gong, Eddy Fan, Simon Oczkowski, Mitchell M. Levy, Lennie Derde, Amy Dzierba, Bin Du, Michael Aboodi, Hannah Wunsch, Maurizio Cecconi, Younsuck Koh, Daniel S. Chertow, Kathryn Maitland, Fayez Alshamsi, Emilie Belley-Cote, Massimiliano Greco, Matthew Laundy, Jill S. Morgan, Jozef Kesecioglu, Allison McGeer, Leonard Mermel, Manoj J. Mammen, Paul E. Alexander, Amy Arrington, John E. Centofanti, Giuseppe Citerio, Bandar Baw, Ziad A. Memish, Naomi Hammond, Frederick G. Hayden, Laura Evans, Andrew Rhodes
Wichtige Hinweise
Electronic supplementary material
Publisher's Note
Springer Nature remains neutral with regard to jurisdictional claims in published maps and institutional affiliations.
Abstract
Background
The novel severe acute respiratory syndrome coronavirus 2 (SARS-CoV-2) is the cause of a rapidly spreading illness, Coronavirus Disease 2019 (COVID-19), affecting thousands of people around the world. Urgent guidance for clinicians caring for the sickest of these patients is needed.
Methods
We formed a panel of 36 experts from 12 countries. All panel members completed the World Health Organization conflict of interest disclosure form. The panel proposed 53 questions that are relevant to the management of COVID-19 in the ICU. We searched the literature for direct and indirect evidence on the management of COVID-19 in critically ill patients in the ICU. We identified relevant and recent systematic reviews on most questions relating to supportive care. We assessed the certainty in the evidence using the
Grading of Recommendations, Assessment, Development and Evaluation
(GRADE) approach, then generated recommendations based on the balance between benefit and harm, resource and cost implications, equity, and feasibility. Recommendations were either strong or weak, or in the form of best practice recommendations.
Results
The Surviving Sepsis Campaign COVID-19 panel issued 54 statements, of which 4 are best practice statements, 9 are strong recommendations, and 35 are weak recommendations. No recommendation was provided for 6 questions. The topics were: (1) infection control, (2) laboratory diagnosis and specimens, (3) hemodynamic support, (4) ventilatory support, and (5) COVID-19 therapy.
Conclusion
The Surviving Sepsis Campaign COVID-19 panel issued several recommendations to help support healthcare workers caring for critically ill ICU patients with COVID-19. When available, we will provide new recommendations in further releases of these guidelines.