11.07.2020 | COVID-19 | Review | Ausgabe 9/2020 Zur Zeit gratis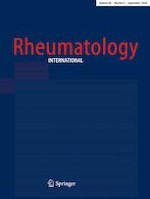 Systemic autoimmune diseases, anti-rheumatic therapies, COVID-19 infection risk and patient outcomes
Zeitschrift:
Autoren:

Efstathios Kastritis, George D. Kitas, Dimitrios Vassilopoulos, Georgios Giannopoulos, Meletios A. Dimopoulos, Petros P. Sfikakis
Wichtige Hinweise
Publisher's Note
Springer Nature remains neutral with regard to jurisdictional claims in published maps and institutional affiliations.
Abstract
As of June 10th 2020 about 7.2 million individuals have tested positive for, and more than 410,000 have died due to COVID-19. In this review we outline the pathophysiology that underpins the potential use of anti-rheumatic therapies for severe COVID-19 infection and summarize the current evidence regarding the risk and outcome of COVID-19 in patients with systemic autoimmune diseases. Thus far there is no convincing evidence that any disease-modifying anti-rheumatic drug (conventional synthetic, biologic or targeted synthetic) including hydroxychloroquine, may protect against severe COVID-19 infection; answers about their possible usefulness in the management of the cytokine storm associated with severe COVID-9 infection will only arise from ongoing randomized controlled trials. Evidence on COVID-19 risk and outcome in patients with systemic autoimmune diseases is extremely limited; thus, any conclusions would be unsafe and should be seen with great caution. At present, the risk and severity (hospitalization, intensive care unit admission and death) of COVID-19 infection in people with autoimmune diseases do not appear particularly dissimilar to the general population, with the possible exception of hospitalization in patients exposed to high glucocorticoid doses. At this stage it is impossible to draw any conclusions for differences in COVID-19 risk and outcome between different autoimmune diseases and between the various immunomodulatory therapies used for them. More research in the field is obviously required, including as a minimum careful and systematic epidemiology and appropriately controlled clinical trials.