19.08.2020 | COVID-19 | Review Article | Ausgabe 11/2020 Zur Zeit gratis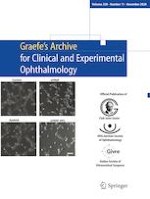 Telemedicine in ophthalmology in view of the emerging COVID-19 outbreak
Autoren:

Adir C. Sommer, Eytan Z. Blumenthal
Wichtige Hinweise
This article is part of Topical collection on
Perspectives on COVID-19.
Publisher's note
Springer Nature remains neutral with regard to jurisdictional claims in published maps and institutional affiliations.
Abstract
Purpose
Technological advances in recent years have resulted in the development and implementation of various modalities and techniques enabling medical professionals to remotely diagnose and treat numerous medical conditions in diverse medical fields, including ophthalmology. Patients who require prolonged isolation until recovery, such as those who suffer from COVID-19, present multiple therapeutic dilemmas to their caregivers. Therefore, utilizing remote care in the daily workflow would be a valuable tool for the diagnosis and treatment of acute and chronic ocular conditions in this challenging clinical setting. Our aim is to review the latest technological and methodical advances in teleophthalmology and highlight their implementation in screening and managing various ocular conditions. We present them as well as potential diagnostic and treatment applications in view of the recent SARS-CoV-2 virus outbreak.
Methods
A computerized search from January 2017 up to March 2020 of the online electronic database PubMed was performed, using the following search strings: "telemedicine," "telehealth," and "ophthalmology." More generalized complementary contemporary research data regarding the COVID-19 pandemic was also obtained from the PubMed database.
Results
A total of 312 records, including COVID-19-focused studies, were initially identified. After exclusion of non-relevant, non-English, and duplicate studies, a total of 138 records were found eligible. Ninety records were included in the final qualitative analysis.
Conclusion
Teleophthalmology is an effective screening and management tool for a range of adult and pediatric acute and chronic ocular conditions. It is mostly utilized in screening of retinal conditions such as retinopathy of prematurity, diabetic retinopathy, and age-related macular degeneration; in diagnosing anterior segment condition; and in managing glaucoma. With improvements in image processing, and better integration of the patient's medical record, teleophthalmology should become a more accepted modality, all the more so in circumstances where social distancing is inflicted upon us.
×