Erschienen in: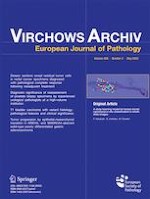 Open Access 16.03.2022 | COVID-19 | Original Article
Ultrastructural examination of lung "cryobiopsies" from a series of fatal COVID-19 cases hardly revealed infected cells
Erschienen in: Virchows Archiv | Ausgabe 5/2022
Abstract
Ultrastructural analysis of autopsy samples from COVID-19 patients usually suffers from significant structural impairment possibly caused by the rather long latency between death of the patient and an appropriate sample fixation. To improve structural preservation of the tissue, we obtained samples from ventilated patients using a trans-bronchial "cryobiopsy" within 30 min after their death and fixed them immediately for electron microscopy. Samples of six COVID-19 patients with a documented histopathology were systematically investigated by thin section electron microscopy. The different samples and areas inspected revealed the ultrastructural correlates of the different phases of diffuse alveolar damage, including detachment of the alveolar epithelium, hyperplasia of type 2 cells, exudates, and accumulation of extracellular material, such as the hyaline membranes and fibrin. Macrophages and neutrophilic granulocytes were regularly detected. Structural integrity of endothelium was intact in regions where the alveolar epithelium was already detached. Aggregates of erythrocytes, leukocytes with fibrin, and thrombocytes were not observed. Coronavirus particles were only found in and around very few cells in one of the six patient samples. The type and origin of these cells could not be assessed although the overall structural preservation of the samples allowed the identification of pulmonary cell types. Hence, the observed alveolar damage is not associated with virus presence or structural impairment due to ongoing replication at later stages of the disease in fatal cases, which implies that the lung damage in these patients is at least propagated by alternative mechanisms, perhaps, an inappropriate immune or stress response.
Supplementary Information
Publisher's note
Springer Nature remains neutral with regard to jurisdictional claims in published maps and institutional affiliations.
Introduction
Materials and methods
Patient characteristics and trans-bronchial lung cryobiopsy
Eight patients have been included in a pathological case study on COVID-19 patients in Genoa (Italy) [
20
]. Samples from six of those patients (patients C03 to C08) were available for an extensive ultrastructural analysis presented here. The patient characteristics and histopathological diagnosis relevant for the study are listed in Suppl. Table
1
. Samples were taken by using a trans-bronchial lung cryobiopsy technique within 30 min after exitus of the still ventilated patient [
20
]. To preserve the tissue for electron microscopy, frozen tissue was immediately immersed in buffered glutaraldehyde (2.5% in 0.1 M cacodylate buffer) and stored for at least 1 week at 4 °C. Control cryobiopsy samples were obtained from then unaffected area of a living patient with nonspecific interstitial pneumonia and fibrosis using the same procedures.
Sample preparation for thin section electron microscopy
Samples were post-fixed in 1% osmium tetroxide and 1% aqueous uranyl acetate for 1 h, each, dehydrated by a graded series of ethanol and embedded in epoxy resin (Poly-Bed; Polysciences, Inc., Warrington, PA). Sections were produced using ultramicrotomes from Leica, either at 300 to 500 nm (semithin) or at 50 to 100 nm (ultrathin) thickness. Semithin sections were transferred on glass slides and stained with toluidine blue. Ultrathin sections were either collected on naked copper grids and contrasted with uranyl acetate and lead citrate or on small pieces of a silicon wafer and contrasted with lead citrate. A thin carbon coating stabilized the ultrathin sections on grids for the imaging by transmission electron microscopy.
Sample investigation by light and electron microscopy
Semithin sections were photographed with an inverted light microscope (ApoTome2, Carl Zeiss Microscopy), using a color CMOS camera (AxioCam 503 color, Carl Zeiss Microscopy), a 40x/1.1 NA water immersion objective and automated image montaging provided by the camera software (ZEN blue, version 2.6). Transmission electron microscopy (TEM) of ultrathin sections was performed by a group of operators using the following microscopes: (1) HITACHI 7800 (Hitachi), equipped with a tungsten filament operated at 100 kV; (2) Tecnai Spirit (Thermo Fisher Scientific), equipped with a LaB6 filament operated at 120 kV; and (3) JSM-2100 (Jeol), equipped with a LaB6 filament operated at 200 kV. Digital images presented in the manuscript were either acquired with a CCD camera (MegaviewIII, EMSIS) or a CMOS camera (Phurona, EMSIS). Montages of images were produced by using the respective camera acquisition software (iTEM, version 5.2, OSIS; Radius, version 2.1, EMSIS).
Large montages (up to 200 images) were recorded from thin sections collected on silicon wafers using a scanning electron microscope (Teneo, Thermo Fisher) and an in-column detector (T1) at 2 kV, 25–100 µA, 2–3 mm working distance. Large-field scans or tiled scans were recorded with a resolution of 1.8 to 49 nm per pixel, a dwell time of 3 µs and a line integration of 2. Stitching of the recorded images was either performed with the MAPS software (version 2.5, Thermo Fisher) used for acquisition or with the TrakEM module of Fiji [
21
].
We investigated six "cryobiopsy" samples from six deceased patients at the ultrastructural level. After an initial inspection of sections from all samples, which showed that the ultrastructural preservation was sufficient for a detailed analysis, we employed a systematic investigation strategy. From each sample, we took sections (semithin and ultrathin) with at least 1 mm
2
surface area and a total depth of 1 mm at intervals of 100 µm or less. At least one thin section per section level was investigated by an expert in diagnostic EM using TEM. Mean investigation time per section was at least 1 h. The detection of viruses followed morphological criteria which are unique for coronaviruses [
22
].
Results
Discussion
Acknowledgements
We thank Silvio Bürge (Robert Koch Institute) for recording of the image montages from semithin sections by light microscopy, Consuelo Venturi (University of Genoa) for technical assistance in sample preparation, and Dr. Christoph Schaudinn (Robert Koch Institute) for reading and commenting the manuscript.
Declarations
Ethics approval
The protocol was approved by the regional ethics committee (reference number: CER Liguria: 144/2020-DB id 10460 on the 06/04/2020).
Consent to participate
The relatives of the patients gave their consent to take the biopsies and to analyze them scientifically.
Conflict of interest
The authors declare no competing interests.
Open Access
This article is licensed under a Creative Commons Attribution 4.0 International License, which permits use, sharing, adaptation, distribution and reproduction in any medium or format, as long as you give appropriate credit to the original author(s) and the source, provide a link to the Creative Commons licence, and indicate if changes were made. The images or other third party material in this article are included in the article's Creative Commons licence, unless indicated otherwise in a credit line to the material. If material is not included in the article's Creative Commons licence and your intended use is not permitted by statutory regulation or exceeds the permitted use, you will need to obtain permission directly from the copyright holder. To view a copy of this licence, visit
http://​creativecommons.​org/​licenses/​by/​4.​0/​
.
Publisher's note
Springer Nature remains neutral with regard to jurisdictional claims in published maps and institutional affiliations.