03.03.2021 | COVID-19 | Observational Research | Ausgabe 5/2021 Zur Zeit gratis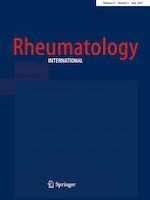 Use of conventional synthetic and biologic disease-modifying anti-rheumatic drugs in patients with rheumatic diseases contracting COVID-19: a single-center experience
Zeitschrift:
Autoren:

Michalis P. Migkos, Evripidis Kaltsonoudis, Eleftherios Pelechas, Vassiliki Drossou, Panagiota G. Karagianni, Athanasios Kavvadias, Paraskevi V. Voulgari, Alexandros A. Drosos
Wichtige Hinweise
Publisher's Note
Springer Nature remains neutral with regard to jurisdictional claims in published maps and institutional affiliations.
Abstract
To examine whether patients with inflammatory arthritis (IA) treated with conventional synthetic (cs) disease-modifying anti-rheumatic drugs (DMARDs) and/or biologic (b) DMARDs, could be affected from SARS-CoV-2 infection and to explore the COVID-19 disease course and outcome in this population. This is a prospective observational study. During the period February–December 2020, 443 patients with IA who were followed-up in the outpatient arthritis clinic were investigated. All patients were receiving cs and/or bDMARDs. During follow-up, the clinical, laboratory findings, comorbidities and drug side effects were all recorded and the treatment was adjusted or changed according to clinical manifestations and patient's needs. There were 251 patients with rheumatoid arthritis (RA), 101 with psoriatic arthritis (PsA) and 91 with ankylosing spondylitis (AS). We identified 32 patients who contracted COVID-19 (17 RA, 8 PsA, 7 AS). All were in remission and all drugs were discontinued. They presented mild COVID-19 symptoms, expressed mainly with systemic manifestations and sore throat, while six presented olfactory dysfunction and gastrointestinal disturbances, and all of them had a favorable disease course. However, three patients were admitted to the hospital, two of them with respiratory symptoms and pneumonia and were treated appropriately with excellent clinical response and outcome. Patients with IA treated with cs and/or bDMARDs have almost the same disease course with the general population when contract COVID-19.