01.12.2020 | COVID-19 | Review | Ausgabe 1/2020 Open Access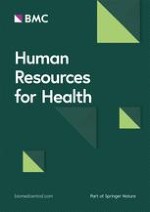 Virtual adaptation of traditional healthcare quality improvement training in response to COVID-19: a rapid narrative review
Zeitschrift:
Autoren:

Zuneera Khurshid, Aoife De Brún, Gemma Moore, Eilish McAuliffe
Wichtige Hinweise
Supplementary information
Publisher's Note
Springer Nature remains neutral with regard to jurisdictional claims in published maps and institutional affiliations.
Abbreviations
QI-MQCS
Quality improvement minimum quality criteria set
QII
Quality improvement interventions
Background
The COVID-19 pandemic is rapidly transforming the landscape of the healthcare system and virtual healthcare solutions are playing a key role in this change [
1
]. It has also presented unique challenges in the healthcare quality improvement (QI) sphere and highlighted the need for a dynamic approach that enables QI structures and policies to adapt to the pandemic environment [
2
]. QI principles offer useful strategies for implementing and sustaining meaningful change [
3
] and staff trained in QI principles can play a critical role in responding to these emerging challenges by accelerating the pace of learning [
4
]. QI is increasingly being recognised as an important skill for healthcare professionals [
5
] and is an important component of medical education and training [
6
]. The immediate focus of the COVID-19 response of the healthcare sector has been on ensuring continuity of care for patients and communities. However, the pandemic has also had a profound impact on medical education delivery and how healthcare professionals will be educated in future [
7
]. As researchers and practitioners rush to explore ways to support healthcare professionals during the pandemic, it is also important to rethink the way QI training and education is delivered to healthcare professionals.
Rather than viewing COVID-19 as a disruption to healthcare QI education and training, it can be considered as an opportunity to improve distance learning techniques and benefit from digital hyper-connectivity to enhance education delivery that can extend into the post-pandemic environment [
8
]. Application of technology-enhanced learning is often cited as a pedagogical advancement for a curricular transformation of medical education [
9
]. However, the pandemic has made it an inescapable necessity for the healthcare system to adapt to virtual ways of working.
Online learning platforms have the potential to bring healthcare professionals together to share knowledge and collaborate in QI teaching, learning and education [
10
]. Beyond the pandemic situation, well designed, self-directed e-learning programmes which are responsive to the dynamic healthcare sector, may lead to better knowledge retention as compared to traditional didactic lectures [
11
]. There is much to be understood about the usefulness of distance learning modalities in effectively delivering QI training. The purpose of this rapid narrative review is to collate studies to identify what works and what does not in delivering QI training and education using distance learning modalities. A rapid evidence assessment summarises research findings in a systematic manner, within time and resource constraints and is suited to the current situation [
12
].
The review aims to answer the following questions:
What distance learning modalities are being used to train healthcare staff and students in QI methods?

What is the efficacy of distance learning QI programmes?

What were the advantages and limitations in delivering QI programmes using distance learning modalities?
By answering these questions, we aim to synthesise guidelines and recommendations for those who are dealing with the challenge of adapting and delivering QI training to healthcare professionals through distance learning modes.
Methods
Three databases (PubMed, Web of Science and Scopus) were searched to identify studies published between 2015 and 2020. The inclusion criteria were QI training programmes or courses targeting healthcare professionals and students with at least one component of the programme being delivered online. Only studies with primary data were included. Conference proceedings, editorials, protocols, and book sections were excluded. Studies that did not explicitly teach QI principles in the programme were excluded. Papers with no full text available or no English translation available were also excluded. Reference lists of included papers and grey literature search of Google Scholar was also conducted to identify further papers. The search and screening processes are documented in Fig.
1
(Prisma Diagram) and search strategy is presented in Additional file
1
: Search strategy. The critical appraisal of the studies was conducted using the Quality Improvement Minimum Quality Criteria Set (QI-MQCS)—Version 1.0 tool which possesses acceptable psychometric properties for critical appraisal to support systematic reviews containing diverse quality improvement intervention (QII) evaluations [
13
].
×
Results
The summary of the 19 studies included in this evidence synthesis is presented in Table
1
.
Table 1
Summary of studies
Study characteristics

Population description

Intervention description

Outcomes

Study ID

Location

Study design

Population

Sample size

Training purpose

Intervention type

Delivery modes

Evaluation of outcomes

Outcomes achieved

United States

Mixed methods

Interprofessional

health care teams

40

Training interprofessional health care teams to lead QI projects using PDSA methodology

Interprofessional Quality Improvement Training Program

Seminars, online modules, bimonthly meetings, QI project work

Participation

Learner reactions to training

Participants' QI knowledge, attitudes, behaviours

Patient safety outcomes

19 out of 22 teams completed the programme

Higher QI self-efficacy post-programme

Program and sessions rated favourably

Improvements in clinical settings

United States

Mixed methods

Interprofessional group of faculty

27

Preparing faculty to lead frontline clinical transformation

Teachers of Quality Academy Professional development program

Online, didactic, small-group, experiential learning, QI project, QI symposium

Progress of QI initiatives

Incorporation of educational modules into curriculum

Production of scholarly products by participants

Participants' QI knowledge, attitudes, behaviours

Patient safety outcomes

Interprofessional practice

All participants completed QI projects

70% participants engaged in design and delivery of curriculum

Participants applied new knowledge and skills in educational initiatives development

United States

Prospective validation study

Internal medicine residents

143

Educating trainees on how to successfully improve health care quality

Flipped QI curriculum

Online modules, facilitated small group discussions

Preferences for mode of delivery

Past experiences with delivery mode

Completion of online modules

Participants' QI knowledge, attitudes, behaviours

Improved perception of FC

Participants of FC demonstrated improved QI knowledge compared to the control group

FC associated with greater engagement in online modules

United States

Quantitative descriptive

Postdoctoral nurses, post-residency physicians, clinical psychologist

54

Training health care professionals to become leaders in QI

Veterans affairs quality scholars curriculum

Web-based curriculum delivered in real time

Participants' QI knowledge, attitudes, behaviours

Transfer of training

Learner reactions to training

Learners satisfied with training

Improvements in QI knowledge, attitudes, behaviours

Significant improvement in affective transfer but no significant change in cognitive or skill-based transfer

Hafford-Letchfield-2018 [

18

]

United Kingdom

Mixed methods

Social workers, midwives, community nurses, occupational therapists, dieticians, general and mental health nurses

62

Using digital storytelling method to encourage collaboration for identifying and developing plans for service improvements

Service development and quality improvement module

Digital storytelling pedagogy with online activities and half-day workshops taught face-to-face

Developing digital story

Developing action plan to address selected issue

Writing improvement plan

Experience with delivery mode

Patient safety outcomes

Levelling effect in interprofessional collaboration

Programme content should focus on communicating service user/patient needs

Virtual learning pedagogies encourage co-construction of shared solutions across disciplines

Nearly all students created innovative and informative digital stories with genuine practical utility

United States

Mixed methods

Primary care, public health, and community leaders and project managers, faculty, project staff

11 teams

Sharing and spreading, evidence-based QI practices to prevent and treat obesity

National Initiative for Children's Healthcare Quality (NICHQ) Healthy Weight Collaborative

In-person networking events and virtual learning sessions, webinars, coaching calls, peer networking calls, technical assistance calls

Implementation of activities

Developing action plans

Engagement of community teams

Project results

Patient outcomes

Online module usage patterns

Documents submitted by teams

Developed collaborative capacity among teams

34% of Phase 2 teams had an "above average" level of engagement

Use of QI methods and performance measures helped teams make progress

All teams adopted a healthy weight message, 59% implemented community-wide assessments and plans

United States

Quantitative descriptive

Otolaryngology residents

11

Integrating patient safety and quality improvement into resident education

Patient Safety and Quality Improvement (PSQI) curriculum

Interactive online modules, classroom group discussions, lectures by PSQI experts, self-directed workshops to develop projects

Online module content and quality

Number of projects developed

Confidence in using QI

IHI online modules are appropriate for patient safety and QI beginners and well accepted by participants

Over half of residents found these modules to be ''extremely'' or ''very'' worthwhile

United States

Quantitative descriptive

House officers

80

Training house staff about basic QI techniques

Flipped classroom quality improvement curriculum

Online modules and in-person workshops

Participants' QI knowledge, attitudes, behaviours

Improved QI content knowledge

Improved perceived readiness to participate in QI projects

United States

Mixed methods

Faculty, staff, administrators, supervisors, data managers

60

Undertaking and sharing Continuous Quality improvement techniques

Online quality improvement

Information exchange

Web-based portal/website

Experience with delivery mode

QI delivery mode effectiveness, efficiency, satisfaction

Results were overall positive and desirable

Majority reviewers reported they would use the learning materials, complete quality improvement projects and reported the site would help address quality improvement challenges

United States

Pretest/posttest control group design

Baccalaureate nursing students

64

Improving knowledge, skills, and attitudes regarding QI and safety

QSEN competencies

Online modules, flipped classroom

Participants' QI knowledge, attitudes, behaviours, and comfort

Safety knowledge, comfort, and attitude

Statistically significant effect between the groups for QI

Experimental group had slightly higher knowledge scores than the control group for safety and QI

Use of online modules in conjunction with the flipped classroom had a greater effect on increasing QI knowledge than the use of online modules only

United States

Mixed methods

Family Medicine residents

23

Integrating residents to actively participate in quality improvement and patient safety activities

Integrated quality improvement residency curriculum

Web-based tutorials, quality improvement projects, small-group sessions

Quality improvement skills

Patient safety skills

Chronic care management

Participants of full curriculum reported higher use of knowledge

Chronic care management and patient safety skill significantly improved for majority items

Only one item (designing prospective chart reviews) was significantly improved for the QI skills category

United States

Quantitative

Fellowship trainees

7

Incorporating a QI curriculum into a training program

Flipped classroom (FC) model

Video lessons, half-day session, case examples, a hands-on workshop

Learner reactions to training

Participants' QI knowledge, attitudes, behaviours

Significant improvement in post-FC QI knowledge

Overall positive reaction towards FC model

United States

Randomised control trial

Resident physicians

422

Increasing learner participation in quality improvement education

QI curriculum

Spaced delivery of interactive healthcare quality questions via email

Participation

Participant engagement

Residents in the intervention arm demonstrated greater participation than the control group

Percentage of questions attempted at least once was greater in the intervention group versus control group

Response time was faster in intervention group

Team competition increases resident participation in an online course delivering QI content

United States

Quantitative descriptive

Residents and faculty

500

Increasing resident and faculty knowledge in QI, patient safety, and care transitions

University of California Health's Enhancing Quality in Practice online course

Three modules, questions sent on smartphones using an app, or on computers using e-mail

Course completion

QI knowledge

Patient safety outcomes

Preferences for mode of delivery

Learners rated quiz-based system as an effective teaching modality and preferred it to classroom-based lectures

Course completion rate between 66–86%

Knowledge acquisition scores for, QI, patient safety and care transitions increased after course completion

Course best utilised to supplement classroom and experiential curricula

United States

Mixed methods

Sleep medicine fellows

7

Developing skills to systematically analyse practice using quality improvement methods, and implement changes

QI curriculum using a flipped classroom

Online modules and group sessions

QI knowledge

Confidence in QI application

Participation

Project completion

All participants completed the curriculum

Knowledge of QI concepts and confidence in performing QI activities increased

QI projects improved timeliness and quality of care for patients

Canada

Mixed methods

Secretaries, clinical assistants, registered nurses, nurse practitioners, physician assistants, physicians

Not stated

Running Plan-Do-Study-Act cycles to streamline examination process

QI curriculum

Didactics, workshop, online modules, and experiential learning

Improvement in care process

Residents successfully applied QI methods to improve the efficiency of the DOT examination process

Total visit time successfully reduced Accuracy of certificate issuance, as proxy for examination quality improved after intervention

United States

Randomised, controlled trial

Nursing Facility Residents

264

Improving the identification, evaluation, and management of acute changes

INTERACT quality Improvement Program

INTERACT tools, online training programme, webinars, an intensive initial training programme, monthly follow-up webinars

Patient safety outcomes

No adverse effects on resident safety

No significant differences in safety indicators between intervention and comparison group

Intervention NFs with high levels of INTERACT tool use reported significantly lower rates of severe pain

United States

Observational study with control group

Fourth-year medical students

34

Improving QI knowledge

QI curriculum

Online modules, reflective writing, discussion with content expert, mentored QI project

Comfort with QI principles

Participants' QI knowledge, attitudes, behaviours

Projects completion

Students in the intervention group reported more comfort with their skills in QI

Curriculum strength included effective use of classroom time, faculty mentorship, reliance on pre-existing online modules

Curriculum is expandable to larger groups and transferable to other institutions

United States

Mixed methods

Team leader, senior level support person, nurse, physician, nurse practitioner champion, pharmacist, and physical therapist

60

Enhancing knowledge, infrastructure, and capacity for QI

Virtual breakthrough series collaborative

Webinar-based educational format, open discussion sessions, "Meet and Greet" call with coaches, pre-work calls

Learner reactions to training

Report submission

Patient safety outcomes

No statistically significant decrease in total fall rates or major injury rates

Significant improvement in fall related injury rate

Majority were satisfied with the educational calls

Minor injury rate decreased significantly

Monthly report submission between 65 to 85%
Study characteristics
Although, the overarching aim of the included studies was to improve QI skills of healthcare professionals and students, the studies differed in design, evaluation, and analytical methods used. Most studies had a mixed methods design and 17 of the 19 studies were based in the United States. Design of the interventions was also variable; most studies used a blended learning method combining online and in-person modes while only six studies [
17
,
22
,
26
,
27
,
30
,
32
] were entirely delivered online. Some blended learning modules conducted classroom-based sessions followed by support through online modules and QI project completion, while others used a flipped curriculum approach where participants completed online modules prior to the in-person sessions such as seminars, workshops, lectures and QI project completion.
Quality assessment
All included studies were deemed to be of good quality even though some studies did not report on all areas evaluated by the QI-MQCS tool. All studies discussed the rationale behind the intervention, organisational motivation, description of the intervention and implementation approach. Some studies included limited information about describing sustainability or the potential for sustainability of the interventions and explicitly naming the study design. None of the studies were excluded based on quality assessment and a detailed quality assessment is attached in Additional file
2
: Quality assessement of included studies.
Distance learning modes
The online delivery modes used by studies included online modules [
14
–
16
,
20
–
24
,
28
–
31
], access to web-based curricula [
17
], virtual learning environments [
18
], webinars [
19
,
30
,
32
], calls [
19
,
32
], web-based QI portals [
22
], smartphone apps [
27
], emails [
26
,
27
], access to package of tools [
30
], virtual whiteboard [
21
] and video lessons [
25
]. Instead of developing their own distance learning content, most studies relied on the completion of the Institute of Healthcare Improvement's (IHI) online modules [
15
,
16
,
20
,
23
,
31
,
32
], many of which are free to use. The rationale behind using IHI's modules is that it provides a standardised methodology which does not require prior faculty proficiency or entail an increase in educational time commitment [
20
]. The IHI methodology is designed to help organisations in identifying and closing gaps via a standard improvement methodology [
32
]. Another advantage is that an institutional subscription to the IHI programme provides access to comprehensive QI training and allows tracking the progress of participants [
24
]. Some studies adapted IHI modules [
29
,
32
] to their local context while other used self-developed content [
17
–
19
,
22
,
27
,
28
,
30
]. The major online modalities used are summarised in Table
2
.
Table 2
Description of online modes
Modality

Description

Flipped curriculum/flipped classroom

Virtual breakthrough series collaborative

Virtual adaptation of the Institute for Healthcare Improvement (IHI) face-to-face collaborative model through webinar-based educational delivery [

32

]

Dedicated web portal/QI site

Interactive online delivery

Video lectures

Pre-recorded didactic lectures made available to participants [

25

]

Phone/app/email-based methods

Online modules to supplement classroom delivery
Only a few studies discussed the tools/software used to deliver the online QI training components. One study used Adobe Connect and Blackboard for delivering a web-based QI curriculum [
17
] while for a digital storytelling pedagogy, researchers recommended participants to use freely available software such as Windows Moviemaker or Apple iMovie [
18
]. Another QI collaborative used iLab which is a secure, online workspace [
19
] while a study that developed a web-based QI portal used WordPress CMS platform, social media account integration and a network management site called Hootsuite [
22
]. A microlearning app called Qstream was used in another training programme [
27
].
Efficacy of QI training
Studies used various evaluation methods; some focused on programme level factors such as course completion rates [
16
,
27
], learner reaction to training [
14
,
17
,
25
,
32
], engagement level of participants [
14
,
26
,
28
], participant perceptions of the online module content and quality [
20
], preferred training delivery mode [
16
,
22
,
27
] and document and report submission by participating teams [
32
]. Studies evaluated the impact of training on participant comfort [
31
] and confidence [
20
,
28
] in using QI. Many studies also assessed improvement in participants' QI knowledge, skills, attitudes and behaviours as a result of the training [
14
–
17
,
21
,
23
–
25
,
27
,
31
]. Relatively few studies measured improvement in patient safety skills and knowledge of participants post-programme [
23
,
24
]. How participants implemented QI skills and knowledge also constituted a part of outcome evaluation in various studies. This included development of action and improvement plans [
18
], number of QI projects developed [
20
] and completed [
28
] and results attained from these projects [
19
]. Improved results for the patients were also used as a proxy for outcome evaluation [
14
,
15
,
17
–
19
,
27
,
30
,
32
].
Most of the included studies reported achieving desired outcomes such as improved QI knowledge and skills [
14
,
21
,
24
,
25
,
27
,
28
], positive reaction from participants towards the training [
17
,
19
,
20
,
32
], implementation of QI knowledge by participants [
18
,
29
] and confidence to use the learned skills in future [
22
,
28
]. One study reported no improvement in the measure being tracked [
32
]. In the studies with control groups, the intervention participants demonstrated improved QI knowledge [
16
], improved comfort with QI methods [
31
] and greater participation than the control groups [
26
]. One study did not demonstrate any significant difference in post-intervention safety indicators between intervention and comparison group [
30
].
This shows that majority of the interventions were successful in demonstrating the desired results. However, there was scant information around the role played by mode of delivery in the attainment of these outcomes. One study using a control group concluded that use of online content in conjunction with in-person sessions as being more effective in improving QI knowledge than only relying on online content [
23
]. The flipped curriculum [
16
] and utilisation of web-based platforms to deliver advanced QI training [
17
] proved to be effective methods for teaching QI. Since there is a shortage of comparable prior studies on web-based tools for QI education, it is challenging to compare results across similar interventions and more longitudinal studies may be required to analyse outcome trends over time [
22
].
Benefits of online QI education
Limitations of online methods
Evidence suggests that mobile and asynchronous educational technologies have the potential to overcome barriers related to teaching QI methods [
26
]. However, studies have also identified some limitations to such approaches. Participants often valued the learning application sessions conducted in person, more than the online components [
16
]. In the same way, although learners enjoyed asynchronous learning and online delivery, they preferred assessment questions that focused on application of concepts rather than information acquisition [
27
]. Online modes offer limited networking opportunities [
19
].
Customising didactic materials to suit programme and participant needs is a time-intensive task [
28
]. Developing an online site can be resource-intensive and lead to functional problems [
19
]. Since data and reporting systems are external and independent from the QI education sites, it is difficult to integrate these as site resources [
22
]. Online programmes also require facilitators who have QI knowledge [
32
] as well as technical support in case participants face any technical challenges [
20
] such as phone line chatter as reported in a study [
32
]. Additionally, the adoption and use of a new technology requires significant run-time [
22
]. Although participants are familiar with the use of devices such as mobile phones and computers, their use may be limited because of text character restrictions and email fatigue [
27
]. Although the IHI Open School modules are widely used and effective, one study recommended augmenting the content to suit local needs [
23
] and online content such as videos should be at an appropriate level and pace suitable to the participants [
25
].
With blended learning programmes, a major challenge was group session scheduling so that participants could attend without disruption of clinical responsibilities [
28
]. Some participating teams raised concerns specific to collecting and reporting the measurement data and perceived the measures to be complex and not well-matched to the teams' goals [
19
]. Apart from the challenges associated with online delivery, teams also experience other challenges such as demand of other work duties and inability to meet as a team during implementation [
14
].
Discussion
Limitations
This rapid evidence review aimed to synthesise research and recommendations quickly and comprehensively to adapt traditional QI programmes for online delivery in response to the COVID-19 pandemic which has disrupted healthcare systems and QI training programmes. The review employed a systematic search strategy with robust and transparent screening processes. Owing to the time and resource constraints, only one reviewer was involved in the screening process. However, two additional reviewers critically reviewed the study synthesis to ensure quality. It is recognised that a systematic review is neither appropriate nor possible in every situation [
37
]. This rapid narrative reviews serves a specific and time-sensitive purpose and will be useful for policy-makers and QI programme designers seeking to make quick decisions about adapting training to meet needs of healthcare staff during the COVID-19 pandemic.
Conclusion
The findings of this review have important implications for those looking to adapt traditional QI programmes to a virtual environment. Virtual training environment holds great potential in delivering standardised training remotely, which will be of utmost importance in the post-COVID environment. However, caution should be practised, and a realistic evaluation of capabilities and needs should be conducted before making adaptation decisions. Factors such as programme design, mode of delivery, technical skills, implementation support and contextual factors are important considerations. Virtual QI and training of healthcare professionals and students is a viable, efficient, and effective alternative to traditional QI education that will play a vital role in building their competence and confidence to improve the healthcare system in post-COVID environment.
Supplementary information
Acknowledgements
Not applicable.
Ethics approval and consent to participate
Not applicable.
Consent for publication
Nor applicable.
Competing interests
No conflicts of interest to declare.
Open Access
This article is licensed under a Creative Commons Attribution 4.0 International License, which permits use, sharing, adaptation, distribution and reproduction in any medium or format, as long as you give appropriate credit to the original author(s) and the source, provide a link to the Creative Commons licence, and indicate if changes were made. The images or other third party material in this article are included in the article's Creative Commons licence, unless indicated otherwise in a credit line to the material. If material is not included in the article's Creative Commons licence and your intended use is not permitted by statutory regulation or exceeds the permitted use, you will need to obtain permission directly from the copyright holder. To view a copy of this licence, visit
http://​creativecommons.​org/​licenses/​by/​4.​0/​
. The Creative Commons Public Domain Dedication waiver (
http://​creativecommons.​org/​publicdomain/​zero/​1.​0/​
) applies to the data made available in this article, unless otherwise stated in a credit line to the data.
Publisher's Note
Springer Nature remains neutral with regard to jurisdictional claims in published maps and institutional affiliations.