08.05.2020 | Neurology and Preclinical Neurological Studies - Original Article | Ausgabe 5/2020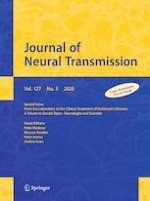 Creation of a gene expression classifier for predicting Parkinson's disease rate of progression
Zeitschrift:
Autoren:

Jose Martin Rabey, Jennifer Yarden, Nir Dotan, Danit Mechlovich, Peter Riederer, Moussa B. H. Youdim
Wichtige Hinweise
Publisher's Note
Springer Nature remains neutral with regard to jurisdictional claims in published maps and institutional affiliations.
Abstract
Parkinson's disease (PD) etiology is heterogeneous, genetic, and multi-factorial, resulting in a varied disease from a mild slow progression to a more severe rapid progression. Prognostic information on the nature of the patient's disease at diagnosis aids the physician in counseling patients on treatment options and life planning. In a cohort of PD patients from the PPMI study, the relative gene expression levels of SKP1A, UBE2K, ALDH1A1, PSMC4, HSPA8 and LAMB2 were measured in baseline blood samples by real-time quantitative PCR. At baseline PD patients were up to 2 years from diagnosis, H&Y scale ≤ 2 and PD treatment naïve. PD-Prediction algorithm comprised of ALDH1A1, LAMB2, UBE2K, SKP1A and age was created by logistic regression for predicting progression to ≤ 70% Modified Schwab and England Activities of Daily Living (S&E-ADL). In relation to patients negative for PD-Prediction (
n
 = 180), patients positive (
n
 = 30) for Cutoff-1 (at 82% specificity, 80.0% sensitivity) had positive hazard ratio (HR+) of 10.6 (95% CI, 2.2–50.1), and positive (
n
 = 23) for Cutoff-2 (at 93% specificity, 47% sensitivity) had HR+ of 17.1 (95% CI, 3.2–89.9) to progress to ≤ 70% S&E-ADL within 3 years (
P
value < 0.0001). Likewise, patients positive for PD-Prediction Cutoff-1 (
n
 = 49) had HR+ 4.3 (95% CI, 1.6–11.6) for faster time to H&Y 3 in relation to patients negative (
n
 = 170) for PD-Prediction (
P
value = 0.0002). Our findings show an algorithm that seems to predict fast PD progression and may potentially be used as a tool to assist the physician in choosing an optimal treatment plan, improving the patient's quality of life and overall health outcome.