01.12.2018 | Case report | Ausgabe 1/2018 Open Access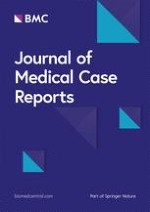 Crimean-Congo hemorrhagic fever with hepatic impairment and vaginal hemorrhage: a case report
Zeitschrift:
Autoren:

Ermira Muco, Najada Como, Siva Bino, Arjan Harxhi, Pellumb Pipero, Majlinda Kota, Jonida Mehmeti, Arta Kushi, Dhimiter Kraja
Abstract
Background
Crimean-Congo hemorrhagic fever is a tick-borne disease described in more than 30 countries in Europe, Asia, and Africa. Albania is located in the southwestern part of the Balkan Peninsula. In 1986, the first case of Crimean-Congo hemorrhagic fever was registered, and cases of patients with hemorrhagic fever are rising, and most of them present in a serious condition, when the mortality rate is very high. In districts like Mirdite, Lezhe, Gjirokaster, Skrapar, Erseke, and Kukes, there is delineated human-to-human transmission.
Case presentation
We report the case of a 32 year-old Albanian woman from a rural area of Albania. She was hospitalized at the Infectious Diseases Service, for a severe influenza-like illness of 4 days duration. Our patient had been bitten by a tick while working in her garden. She presented with nausea, vomiting, headache and muscle pain. A physical examination found a high fever of 40 °C, an enlarged liver, petechia, and vaginal bleeding; flapping tremor and fetor hepaticus were found as a sign for hepatic encephalopathy; and confusion and disorientation were observed in her neurological examination. Her platelet and white blood cell counts were very low, while her aspartate aminotransferase and alanine aminotransferase levels were very high. She was transferred to the intensive care unit because of her worsening condition. Serological and C-reactive protein test results for Crimean-Congo hemorrhagic fever were positive. She was treated with oral ribavirin and discharged with normal parameters.
Conclusions
People in high-risk professions in the endemic areas should be informed and trained on the risk of Crimean-Congo hemorrhagic fever as a matter of urgency. Vaginal bleeding is not always a gynecological problem. In Albania, these places are the mountainous areas, so people who have traveled to these areas and who have symptoms after a tick bite are advised to contact their doctors.