29.07.2017 | Fertility Preservation | Ausgabe 11/2017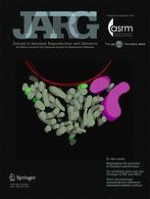 Cryopreservation of human ovarian tissue using the silver closed vitrification system
Zeitschrift:
Autoren:

Zhun Xiao, Yaoyao Zhang, Wei Fan
Wichtige Hinweise
Zhun Xiao and Yaoyao Zhang contribute equally to this study.
Abstract
Purpose
The aim of this study is to evaluate the feasibility of using a hand-made silver container for the cryopreservation of human ovarian cortex.
Methods
Human ovarian cortex tissues were vitrified using an open vitrification system (OVS) of needle immersed vitrification (NIV) and two closed vitrification systems (CVS) of a plastic vial (plastic CVS) and a silver container (silver CVS). Outcomes of vitrification were evaluated morphologically and histologically by in vitro culture and xenotransplantation. The apoptosis of primordial follicles was assessed by TUNEL staining. The production of E2 and P4 was examined by a chemiluminescent immunoassay. Blood vessels were visualized with CD31 staining.
Results
Compared with the fresh ovarian cortex tissue, ovarian cortex tissues that were vitrified using the three different carriers and then warmed showed significantly reduced percentages of normal primordial follicles, viability of primordial follicles, E2 and P4 levels during in vitro culture and decreased amounts of blood vessels. However, much better outcomes were obtained with NIV and silver CVS than with plastic CVS, based on the better morphology and viability of primordial follicles, higher E2 and P4 production during an in vitro culture, and greater numbers of blood vessels after xenografting. Importantly, the outcomes of ovarian cortex cryopreservation with silver CVS were similar and comparable to those with NIV.
Conclusions
The hand-made silver container as a CVS is a promising carrier for the cryopreservation of the human ovarian cortex.