19.10.2018 | Original Article | Ausgabe 4/2018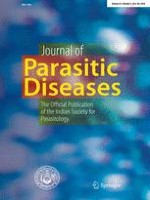 Cryptosporidium

infection in chronic kidney disease patients undergoing hemodialysis in Egypt
Zeitschrift:
Autoren:

Asmaa M. El-kady, Yaser Fahmi, Mohammed Tolba, Abdel-Kader A. Hashim, Amal A. Hassan
Abstract
Patients with chronic renal failure are more susceptible to infections due to acquired immunodeficiency caused by uremia. Parasitic infections are one of the significant causes of morbidity and mortality in those patients, So we aimed to assess the prevalence of
Cryptosporidium
spp. and other protozoan infections in patients undergoing hemodialysis in Qena Governorate, Upper Egypt. The present study took place in Qena University Hospitals, Egypt. Participants were 150 Chronic Kidney Disease (CKD) patients undergoing hemodialysis, and 50 healthy individuals. After questionnaire, three consecutive stool samples from each participant were examined macroscopically and microscopically by different techniques for the presence of different stages of different protozoa. 66% of CKD patients and 26% of the control group were infected with intestinal protozoa.
Cryptosporidium
spp. were the protozoa with the highest prevalence in cases (40%) and control (6%) with statistical significance (
P
 < 0.05). It was detected only in watery stool samples (
P
value < 0.05). Residence, age and gender were not significant variables in the prevalence of infection among patients with CKD. In Egypt, few studies had reported the prevalence of
Cryptosporidiosis
in chronic renal patients.
Cryptosporidium
infection should be suspected in all cases of prolonged watery diarrhea in CKD patients and stool samples should be examined using special stains as cold modified Ziehl–Neelsen staining for proper diagnosis of
Cryptosporidium
infections.