01.09.2009 | Experimental Research | Ausgabe 9/2009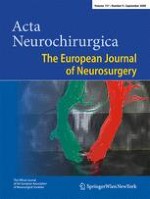 CTNNB1

(β-catenin) mutation is rare in brain tumours but involved as a sporadic event in a brain metastasis
Zeitschrift:
Autoren:

Chu-I Lee, Meng-Yu Hsu, Chia-Hua Chou, Chihuei Wang, Yu-Shung Lo, Joon-Khim Loh, Shen-Long Howng, Yi-Ren Hong
Wichtige Hinweise
Comment
Mutations that cause activation of the Wnt signalling pathway have been found in a proportion of medulloblastomas, embryonal tumours that most likely arise from granule cell precursors in the cerebellum. This includes mutations in
CTNNB1
, the gene encoding β-catenin. Interestingly,
CTNNB1
mutations correlate with an improved prognosis for medulloblastoma patients. Tumourigenesis in these cases is believed to arise as a result of inappropriate activation of a pathway whose activity is normally restricted to the developing cerebellum. Lee et al have shown that activating mutations in
CTNNB1
are rare in a number of other types of brain tumour, suggesting that many cell types in the CNS do not respond to activating Wnt signalling in the same way as granule cell precursors do. The identification of the mechanism underlying this difference will be important for understanding how different types of CNS tumours arise.
John Mason
UK
Abstract
Background
The Wnt signaling pathway has been implicated in colon and other cancers. Nevertheless, few or no mutations of
CTNNB1
(β-catenin) have so far been described in brain cancer. We therefore examined the prevalence of constitutive activation of the Wnt signaling pathway in brain cancer specimens as well as cancer cell lines.
Method
We used polymerase chain reaction PCR and direct sequencing methods to investigate whether mutations in the
CTNNB1
phosphorylation sites S33, S37, S41 and T45 were present in 68 brain tumours, including meningioma, astrocytoma, pituitary adenoma, neuroblastoma, metastasis to the brain, and cell lines.
Findings
CTNNB1
gene mutations were not found in either the original brain tumour specimens or the cell lines. However, a missense mutation of
CTNNB1
was identified at residue 33, TCT (Ser) → TGT (Cys) in a patient with lung metastasis to brain. In addition, in vitro functional assay showed that the S33C mutant of β-catenin did affect transcriptional activity in a TCF-4-luciferase reporter construct.
Conclusions
These results indicate that the mutation of exon 3 of the
CTNNB1
gene in brain tumours may be a rare event and yet may be required for a small subset of human metastatic brain tumours.