01.12.2014 | Research article | Ausgabe 1/2014 Open Access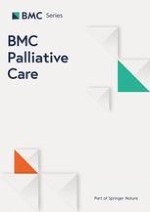 Cultural differences in spiritual care: findings of an Israeli oncologic questionnaire examining patient interest in spiritual care
Zeitschrift:
Autoren:

Michael Schultz, Doron Lulav-Grinwald, Gil Bar-Sela
Wichtige Hinweise
Electronic supplementary material
The online version of this article (doi:
10.​1186/​1472-684X-13-19
) contains supplementary material, which is available to authorized users.
Competing interests
The authors declare that they have no competing interests.
Authors' contributions
MS prepared the initial study design in light of previous studies, distributed the questionnaires, and drafted the manuscript. DLG helped design and coordinate the study. GBS conceived of the study, coordinated its administration, and helped to draft the manuscript. All authors read and approved the final manuscript.
Background
Who wants to receive spiritual care, and can those results be generalizable? In any cultural setting, researching the key demographic traits that significantly predict patient interest in spiritual care would help to streamline the process of screening. However, it bears consideration whether some of these factors are cross-cultural, and possibly do not require renewed study in each particular setting.
Rambam is the tertiary care medical center for Haifa and its environs as well as for all of northern Israel. Haifa proper is 82% Jewish and 14% Christian, while northern Israel is 44% Jewish, 38% Muslim, 8% Druze, and 7% Christian.
Methods
This study is a patient survey, completed independently.
Sample and procedure
A questionnaire with 61 items to be completed independently and anonymously was distributed to patients who were in the hospital's chemotherapy or radiation outpatient treatment rooms or who were hospitalized in the Division of Oncology at Rambam Health Care Campus in Haifa, Israel. Questionnaires were not distributed in each patient area every day. On those days randomly selected for questionnaire distribution in a particular patient area, questionnaires were distributed to all patients present at the time of distribution. Distribution was done by staff not already part of the patient's care team, to limit desirability bias. Questionnaires were available in Hebrew, Arabic, Russian, and English, thereby ensuring that the vast majority of our patient population would not be excluded for reasons of language. The questionnaire was written in English and translated to Hebrew. Next it was translated to Arabic and Russian by staff in a process of translation – reverse translation to check for consistency. The study was approved by the Rambam institutional ethics review board (ref. #2999), and as per their guidelines, patient consent to self-complete the anonymous questionnaire was granted verbally.
The questionnaire
The questionnaire contained three sections: Spiritual identity (self-defined spirituality and religiosity); Types of support provided by spiritual care, rated by importance assigned to them; and Demographic and clinical details. The cover page described spirituality and spiritual care. The full questionnaire can be viewed in the Additional file
1
.
Measures
Spirituality/religiosity and spiritual resources
Self-defined spirituality and religiosity were selected in two items from among the options: Not spiritual/Somewhat spiritual/Very spiritual and Secular/Traditional/Religious. The religious terminology chosen followed previous Israeli studies [
35
]. These three options are the standard terms used across the various religions represented, where "religious" connotes stricter observance of the religion's commandments while "traditional" connotes strong affiliation and belief without full religious observance. A fourth option from other studies, "ultra-Orthodox", was excluded since it applies to Judaism but not to the other Israeli religions.
Types of support the spiritual caregiver could provide
Our goal was to assess the extent to which patients valued different aspects of spiritual care. Because we were researching a new cultural setting, we wanted to ensure that we examined a substantially broad range of descriptors of spiritual care, including both "secular" and "religious" descriptors. Because the questionnaire would be completed while receiving or waiting for treatment, it needed to be shorter than existing measures. Since our goal was to establish a baseline data set for Israeli spiritual care needs and desires, we did not consider instruments designed for spiritual assessment or spiritual history taking.
This section of our questionnaire was a composite of four previously reported instruments itemizing spiritual needs that can be addressed by pastoral care. Galek et al. [
36
] analyzed a large cohort of studies of patient spiritual needs. Content analysis discerned seven representative constructs, from which they designed a 29-item patient survey of spiritual needs, all of which could potentially be addressed by pastoral care. Their literature review (articles from 1990–2004) was not geographically limited, but predates most of the recent efforts to verify cross-cultural validation of spiritual care instruments used [
16
]. Kernohan et al's semi-structured questionnaire, based on the standards of the Association for Hospice and Palliative Care Chaplains, was conducted in an Irish hospice and asked patients about the importance for them of defined spiritual needs which the pastoral care team could help address [
37
]. VandeCreek's large study [
31
] of 1440 patients used a shortened version of the Patient Satisfaction Instrument–Chaplaincy (PSI-C), developed in Canada, to assess patient satisfaction with various aspects of the support provided by the chaplain. Flannelly et al. [
38
] conducted a meta-analysis of the literature (not geographically limited) reporting key items determining patient/family satisfaction, then combined it with VandeCreek's instrument in order to create a survey measure of the effectiveness of pastoral care.
Galek, Flannelly, and Vandecreek identify, with some variation, thematic areas for the care provided by chaplains, grouped together below. We assigned the items in all four measures [
31
,
36
–
38
] to these thematic areas. Following the approach of Fitchett [
29
], we synthesized our 15-item instrument from the four instruments enumerated above [
31
,
36
–
38
], thereby ensuring that our questionnaire examined elements of each of these thematic areas, as follows:
Sensitivity/caring/support/love
Two items from Flannelly ("Listen to your concerns and show care for you"; "Show care for your family").
Information/decision-making/coordination
Two items from Flannelly ("Help you make difficult decisions"; "Help you obtain information or help in communicating with staff").
Reflecting/finding meaning
Three items from Flannelly, Kernohan, and Galek ("Help you reflect on your experience"; "Help you find meaning in your situation"; "Address spiritual or religious questions").
Coping/peace/hope/dignity
Five items from Flannelly, VandeCreek, and Galek ("Help you face your situation with calmness and dignity"; "Help you find hope or encouragement"; "Help you cope with your sense of loss"; "Help you cope with and adjust to the whole situation"; "Help you find strength to continue").
Spiritual experiential
Two items from Galek and Flannelly ("Pray with you"; "Bring a sense of spirituality into the room").
Activities/rituals
Appropriate to our cultural context, in which spiritual caregivers are not religious figures, in place of a question about religious rituals we added one item about common Israeli spiritual practices, such as meditation, guided imagery, music, and relaxation [
39
].
Patients were asked to indicate the level of importance they ascribed to each way in which the spiritual caregiver could support them. Level of importance was rated on a seven-point Likert-type scale. For our analysis, responses of 1–3 indicated the item was not important to patients, 4 was neutral, and 5–7 indicated importance.
Demographic and clinical details
Demographic variables collected were age, marital status, number of children, education, religion, gender, and country of birth. Sociological/behavioral characteristics assessed were level of support in living situation, level of support from family and community, level of support during hospitalization, and attendance at religious services. Clinical measures, as self-reported by respondents, were cancer diagnosis, stage of treatment, time since primary diagnosis, whether cancer had recurred, and whether cancer had metastasized. One question asked patients how worrisome their cancer is. The questions and response categories may be viewed in the article Additional file
1
.
Attitude toward spiritual care
Respondents were asked four questions relating to their experience with and disposition toward spiritual care: 1) Have you ever had a visit from a spiritual caregiver? 2) Do you think you have a good understanding of what a spiritual caregiver is or does? 3) How important do you think it is that the oncology institute includes spiritual care in its services? 4) How open do you think you would be to a visit from the spiritual caregiver? That final question formed the primary basis for our analysis of patient interest in spiritual care.
Statistical analyses
Statistical analyses were performed using SPSS (Statistics Products Solutions Services) 18.0 software for Windows. Binary logistic regression was used for the calculation of the odds ratios (OR) with 95% confidence intervals (CI) and
P
-values in bivariate analysis. Multivariable stepwise logistic regression analysis was performed to assess the relationship between the patient demographic or social data and patient interest in a visit from the spiritual caregiver. The area under the receiver operating characteristic (ROC) curve was used as a measure of model discrimination. The Hosmer-Lemeshow goodness-of-fit statistic was calculated.
Comparisons between patient interest in a visit from the spiritual caregiver and interest in specific types of support were performed using the χ
2
test. Two-tailed
P
-values of 0.05 or less were considered statistically significant.
Results
We received 364 sufficiently complete questionnaires, a large majority of which were completed in the outpatient clinics. Questionnaires were distributed from March through August 2010 and again from April through mid-May 2011. Completion of questionnaires was voluntary. The most common reason volunteered by patients for non-completion was physical distress.
In response to the question, "How important do you think it is that the oncology institute includes spiritual care in its services?", 60% of patients felt it was important for spiritual care to be offered, regardless of their own personal interest in the service.
In response to the question, "How open do you think you would be to a visit from the spiritual caregiver?", 41% of patients were positively predisposed to such a visit (25% definitely interested; 16% possibly interested). Bivariate analysis of the other items in relation to this question determined the significant predictors of interest in spiritual care.
Discussion
Even among those who expressed indifference to a spiritual care visit, between half and two-thirds of such patients found the kinds of support spiritual caregivers provide to be important to them for most items. Increased patient education might shift that indifference into openness, although it also could be the case that those patients' needs are being met elsewhere.
What do these results suggest for the viability of cross-cultural screening protocols? The current data suggest that most demographic factors are consistently irrelevant, though age and education may be significant in certain cultures. The stage or severity of disease is of ambiguous utility for screening regardless of cultural setting. It should be noted that the persistent factors in the present study, including spirituality/religiousness and support from family/friends, largely match the factors identified in the FICA tool, which may prove to be a valuable cross-cultural measure.
The main methodological limitation of the study was the population response bias. The questionnaires were offered to all patients currently hospitalized or in the treatment clinic at that moment. However, we did not gather demographic data on those who chose not to complete the survey to compare with those who did, and did not analyze the bias in who chose to participate. We also did not record what percent of patients approached chose not to complete a questionnaire, for physical or other reasons.
The question regarding "Frequency of Visitors (if Hospitalized)" had the final answer option "not hospitalized". However, many respondents did not see that option and left this question blank, although many outpatients did answer this question. Thus, those data should best be looked at as a composite of all patients, rather than distinguishing between in- and outpatients. As a result, we do not have precise data on the breakdown among respondents between outpatient and inpatient, though we can provide a general estimation that at least 80% were outpatient. Finally, the question about types of support was not pilot tested with patients.
Conclusion
This study finds significant patient interest in a new field, Israeli spiritual care, similar to the level of interest found in countries where the service is well-established, and suggests that increased patient education and awareness will increase that interest. We found that receipt of spiritual care was a positive experience, leaving patients wanting future visits from the spiritual caregiver. As expected, what patients wanted from the spiritual caregiver showed cross-cultural difference, with explicitly religious or spiritual support less frequently desired in Israel. This study helps strengthen the formulation of cross-cultural screening tools, supporting the use of a measure of social isolation and contraindicating the use of demographic or medical data beyond self-identified religiosity/spirituality.
Authors' information
Gil Bar-Sela, Clinical Assistant Professor, Deputy Director of the Oncology Section and the Director of the Palliative Care Unit at Rambam Health Care Campus. Michael Schultz, Board Certified Chaplain, Rabbi, M.A., Director of the Spiritual Care Service of the Oncology Section, Rambam Health Care Campus. Doron Lulav-Grinwald, Clinical Psychologist (M.A.), Director of the Psychology Service of the Oncology Section, Rambam Health Care Campus.
Acknowledgement
We gratefully thank the UJA/Federation of New York for their ongoing support for the spiritual care program at Rambam Health Care Campus.
This article is published under license to BioMed Central Ltd. This is an Open Access article distributed under the terms of the Creative Commons Attribution License (
http://​creativecommons.​org/​licenses/​by/​2.​0
), which permits unrestricted use, distribution, and reproduction in any medium, provided the original work is properly credited. The Creative Commons Public Domain Dedication waiver (
http://​creativecommons.​org/​publicdomain/​zero/​1.​0/​
) applies to the data made available in this article, unless otherwise stated.
Competing interests
The authors declare that they have no competing interests.
Authors' contributions
MS prepared the initial study design in light of previous studies, distributed the questionnaires, and drafted the manuscript. DLG helped design and coordinate the study. GBS conceived of the study, coordinated its administration, and helped to draft the manuscript. All authors read and approved the final manuscript.