01.12.2017 | Research | Ausgabe 1/2017 Open Access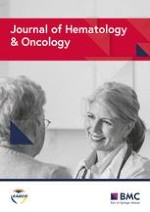 Curative or pre-emptive adenovirus-specific T cell transfer from matched unrelated or third party haploidentical donors after HSCT, including UCB transplantations: a successful phase I/II multicenter clinical trial
Zeitschrift:
Autoren:

Chongsheng Qian, Arnaud Campidelli, Yingying Wang, Huili Cai, Véronique Venard, Hélène Jeulin, Jean Hugues Dalle, Cécile Pochon, Maud D'aveni, Benedicte Bruno, Catherine Paillard, Stéphane Vigouroux, Charlotte Jubert, Patrice Ceballos, Aude Marie-Cardine, Claire Galambrun, Clément Cholle, Isabelle Clerc Urmes, Nadine Petitpain, Marcelo De Carvalho Bittencourt, Véronique Decot, Loïc Reppel, Alexandra Salmon, Laurence Clement, Danièle Bensoussan
Wichtige Hinweise
Electronic supplementary material
The online version of this article (doi:
10.​1186/​s13045-017-0469-0
) contains supplementary material, which is available to authorized users.
Abstract
Background
Allogeneic hematopoietic stem cell transplantation (HSCT), the most widely used potentially curable cellular immunotherapeutic approach in the treatment of hematological malignancies, is limited by life-threatening complications: graft versus host disease (GVHD) and infections especially viral infections refractory to antiviral drugs. Adoptive transfer of virus-specific T cells is becoming an alternative treatment for infections following HSCT. We report here the results of a phase I/II multicenter study which includes a series of adenovirus-specific T cell (ADV-VST) infusion either from the HSCT donor or from a third party haploidentical donor for patients transplanted with umbilical cord blood (UCB).
Methods
Fourteen patients were eligible and 11 patients received infusions of ADV-VST generated by interferon (IFN)-γ-based immunomagnetic isolation from a leukapheresis from their original donor (42.9%) or a third party haploidentical donor (57.1%). One patient resolved ADV infection before infusion, and ADV-VST could not reach release or infusion criteria for two patients. Two patients received cellular immunotherapy alone without antiviral drugs as a pre-emptive treatment.
Results
One patient with adenovirus infection and ten with adenovirus disease were infused with ADV-VST (mean 5.83 ± 8.23 × 103 CD3+IFN-γ+ cells/kg) up to 9 months after transplantation. The 11 patients showed in vivo expansion of specific T cells up to 60 days post-infusion, associated with adenovirus load clearance in ten of the patients (91%). Neither de novo GVHD nor side effects were observed during the first month post-infusion, but GVHD reactivations occurred in three patients, irrespective of the type of leukapheresis donor. For two of these patients, GVHD reactivation was controlled by immunosuppressive treatment. Four patients died during follow-up, one due to refractory ADV disease.
Conclusions
Adoptive transfer of rapidly isolated ADV-VST is an effective therapeutic option for achieving in vivo expansion of specific T cells and clearance of viral load, even as a pre-emptive treatment. Our study highlights that third party haploidentical donors are of great interest for ADV-VST generation in the context of UCB transplantation. (N° Clinical trial.gov: NCT02851576, retrospectively registered).