01.12.2017 | Research article | Ausgabe 1/2017 Open Access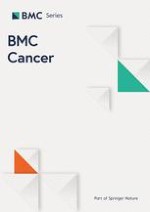 Curcumin decreases malignant characteristics of glioblastoma stem cells via induction of reactive oxygen species
Zeitschrift:
Autoren:

Zachary C. Gersey, Gregor A. Rodriguez, Eric Barbarite, Anthony Sanchez, Winston M. Walters, Kelechi C. Ohaeto, Ricardo J. Komotar, Regina M. Graham
Wichtige Hinweise
Electronic supplementary material
The online version of this article (doi:
10.​1186/​s12885-017-3058-2
) contains supplementary material, which is available to authorized users.
Abbreviations
ATCC
American type culture collection
DAPI
4′,6-diamidino-2-phenylindole
DMEM
Dulbecco's modified Eagle's medium
ERK
Extracellular signal–regulated kinases
IAP
Inhibitor of apoptosis protein
MAPK
Mitogen-activated protein kinases
NADPH
Nicotinamide adenine dinucleotide phosphate
NF-κB
Nuclear factor kappa-light-chain-enhancer of activated B cells
PCR
Polymerase chain reaction
Rac-1
Ras-related C3 botulinum toxin substrate 1
RPMI
Roswell Park Memorial Institute
SEM
Standard error of the mean
STAT3
Signal transducer and activator of transcription 3
WHO
World health organization
Background
In this study, we assess the effects of curcumin on glioblastoma stem cells (GSCs) and propose the molecular mechanisms behind such effects.
Methods
Cells and cell culture
Human Glioblastoma Multiforme (GBM) tissue was obtained from five adult patients from the University of Miami Department of Neurosurgery diagnosed with WHO-IV gliomas based on the World Health Organization (WHO) classification of tumors of the Central Nervous System. Patients or guardians provided written informed consent prior to tumor sample retrieval. Samples were named Glio3, Glio4, Glio9, Glio11 and Glio14. GBM stem-like cell lines were generated as previously described [
38
]. Briefly, tumors were mechanically and enzymatically dissociated, red blood cells were removed using Red Cell Lysis buffer (SigmaAldrich, St. Louis, MO), Cells were filtered and plated in a 3:1 ratio of Dulbecco's Modified Eagle's medium (DMEM): F12 (Gibco, Carlsbad, Ca) media supplemented with 1% penicillin and streptomcycin (penn/strep), 20 ng/ml each of human epidermal growth factor and human fibroblast growth factor, and 2% Gem21 NeuroPlex Serum-Free Supplement (Gemini Bioscience, Sacramento, CA); a formulation consistent for the generation of neurospheres. The GBM cell lines U87, U251 and U235 were purchased from ATCC (Manassas, VA) and were maintained in RPMI media supplemented with 10% FBS and 1% penn/strep. These established GBM cell lines grew in an adherent fashion. All cell lines were routinely tested for mycoplasma using LookOut mycoplasma PCR detection kit (SigmaAldrich, St. Louis, MO) according to the manufacturer's instructions and were maintained at 37 °C in a humidified 5% CO
2
incubator.
Immunofluorescence
To evaluate stem cell marker expression, neurospheres were dissociated mechanically or enzymatically with Accutase (Gemini Bioscience, Sacramento, CA). To facilitate adherence, cells were plated on poly-L-lysine/laminin coated four-well plates in neurosphere media. Cells were fixed in 4% paraformaldehyde, blocked and permeabilized with a 5% bovine serum albumin (BSA) with 0.6% Triton-× 100 and then treated with the primary antibodies Nestin (Abcam, Cambridge, MA), Sox2, Musashi 1, CD44, Bmi-1 (Cell Signaling Technology, Danvers, MA), CD133 (Biorbyt, Cambridge, UK) and A2B5 (A2B5 clone 105, ATCC, Manassas, VA). A "no primary control" was included for all antibodies tested for all cell lines. For these, the cells were incubated with only the antibody diluent (2.5% BSA, 0.3% triton, balance PBS). Cells were then treated with a fluorochrome-conjugated secondary antibody followed by Prolong Gold Antifade Reagent with DAPI (Thermo Fisher Scientific, Waltham, MA). Samples were examined under an EVOS FLoid Cell Imaging Station fluorescent microscope (Thermo Fisher Scientific, Waltham, MA).
MTS assay
Viability was determined using the CellTiter 96® AQueous One Solution Cell Proliferation Assay (MTS) assay (Promega Madison, WI). Cells were seeded into 96-well plates using a modified neurosphere media containing 5% FBS at a density of 10,000 cells per well in 100 μl of cell culture media. Following treatment, media was aspirated and 100 μl of a 1:5 solution of MTS to cell culture media was added to each well and incubated for 1–4 h. Optical density was measured at 490 nm using BoiTek Synergy HT plate reader. To examine the effect of temozolomide (Sigma-Aldrich, St. Louis, MO), GBM stem cells were treated with 100 μM for 72 h or U87 cells were treated with 10–100 μM. Data is represented as the average of 3 separate experiments in which the viability was calculated as the percent of non-treated cells. To determine the effect of curcumin, cells were treated with increasing concentrations of curcumin (Sigma-Aldrich, St. Louis, MO) for 72 h. The IC 50, the concentration of curcumin at which 50% of cells were non-viable, was determined for a minimum of 3 separate experiments. Data is presented as the average IC 50 for each cell line examined.
Proliferation assay
To determine the effect on cell proliferation 100,000 cells were plated in 10 ml of neurosphere media (100 mm dish for Glio9, and T25 flask for Glio3). Curcumin was added at a concentration of 2.5 μM on day 0. Cells were counted on days 4, 7 and 10 using Orflo Technologies Cell Counter Moxi z (Ketchum, ID). Experiments were done in triplicate.
Sphere forming assay
The effect of curcumin on clonogenic growth potential was determined using sphere-forming assays. Single cells were seeded at 50–100 cells per well in a 96-well plate and treated with 2.5 μM of curcumin on day 0. Spheres were manually counted under microscopy on day 14. All experiments were done in triplicate.
Colony forming assay
Colony counting was performed to determine colony forming potential of the adherent GSC line. Cells were plated at 200 cells per well in 6-wells plates and treated with 2.5 μM of curcumin at day 0. Colonies were stained with 0.01% crystal violet (Sigma-Aldrich, St. Louis, MO) and counted under microscopy on day 14. Cell clusters of less than 50 cells were not considered colonies and therefore were not counted. Experiments were done in triplicate.
ROS assay
Curcumin-induced ROS was visualized and quantitated using the general oxidative stress indicator CM-H2DCFDA (Thermo Fisher Scientific, Waltham, MA). CM-H2DCFDA passively diffuses into cells and reacts with ROS to yield a fluorescent adduct. For quantification, cells were split into 96-well plates in cell culture media with the addition of 5% FBS to cause adherence to the well bottoms. Samples were treated with 25 μM of curcumin in phenol red free media for 30 min, 4 h, and 24 h. Cells were incubated with 0.5 μM CM-H2DCFDA in PBS for 5 min subsequently washed in PBS and read at an excitation of 495 nm and an emission of 525 nm using BoiTek Synergy HT plate reader. Data is presented as fold change from non-treated cells. Curcumin-induced ROS activity was also examined using fluorescent microscopy. Dissociated GSCs were plated in neurosphere media on poly-L-lysine/laminin coated four-well plates. CM-H2DCFDA fluorescence was evaluated at 1, 6 and 24 h post curcumin (25 μM) treatment. Images were obtained using the EVOS FLoid Cell Imaging Station fluorescent microscope (Thermo Fisher Scientific, Waltham, MA).
Western blot analysis
Neurospheres cultures, Glios 3, 4, 11 and 14 were plated and treated as neurospheres ranging in size from 100–300 μm as determined by light microscopy. At 8 or 24 h of treatment, the effect of curcumin, N-acetylcysteine (NAC, Sigma-Aldrich, St. Louis, MO) or the combination of curcumin and NAC on protein levels was determined by western blot analysis.
Our method for western blot analysis has previously described [
39
]. Briefly, GSCs were lysed in RIPA buffer, protein concentrations determined by using BCA protein assay and 20 μg of protein was loaded onto 8, 12 or 15% polyacrylamide gel (BioRad Hercules, CA) gels for electrophoresis and subsequently transferred onto nitrocellulose membranes. The membranes were then blocked for 1 h in 5% non-fat milk (Biorad, Hercules, CA) at room temperature (RT) and incubated with the primary antibody diluted in 2.5% BSA overnight. All primary antibodies were purchased from Cell Signaling (Danvers, MA) except for alpha-tubulin, which was purchased from Abcam (Cambridge, UK) and STAT3, which was purchased from Santa Cruz Biotechnology (Dallas, TX). Membranes were then incubated at room temperature with anti-mouse or anti-rabbit secondary antibodies for 1 h. Blots were developed using SuperSignal™ West Pico Chemiluminescent Substrate (Thermo Scientific Waltham, MA).
Statistical analysis
Significance was determined using Student's t-tests for all pairwise comparisons of the different treatments that were tested. The results are presented as the mean ± standard error mean (SEM). Significance was set at
p
 < 0.05.
Results
Discussion
Conclusions
In summary, we have found that curcumin targets glioblastoma stem cells though the induction of ROS, potentially through downregulation of STAT3 activity. The importance of STAT3 in GBM has previously been described [
84
]. Specifically, inhibition of STAT3 signaling decreased GSC survival both in culture and in orthotopic xenograft models [
85
]. Furthermore, levels of STAT3's downstream target, Survivin correlate with astrocytoma grade and may be predictive of poor patient survival [
86
,
87
]. We show that low doses of curcumin inhibit the self-renewal properties of GSCs—an important characteristic for a chemotherapy targeting GBM relapse—and that curcumin decreases GSC viability in a dose dependent manner. These findings indicate that curcumin may be a safe future chemotherapeutic agent for the treatment of glioblastoma and further studies are warranted.
Acknowledgements
We would like to thank our wonderful laboratory volunteers Beatriz Hawkins, Amelia Bahamonde, Nicolas de Cordoba and Sumedh Shah for their contributions to our research efforts.
Funding
University of Miami Brain Tumor Initiative (UMBTI) and the Mystic Force Foundation provided salary support for RMG and cost of all materials/reagents required for this work.
Availability of data and materials
The authors declare that the data supporting the findings of this study are available within the article and its supplementary information files.
Authors' contributions
ZCG conducted experiments, analyzed data and contributed to writing the manuscript. GAR conducted experiments and analyzed data. ERB conducted experiments and analyzed data. AS conducted experiments and analyzed data. WMW conducted experiments and analyzed data. KCO conducted experiments. RJK analyzed data and contributed to writing the manuscript. RMG conducted experiments, analyzed data and contributed to writing the manuscript. All authors read and approved the final manuscript.
Competing interests
The authors declare that they have no competing interests.
Consent for publication
Not applicable.
Ethics approval and consent to participate
All human samples were retrieved after patient or guardian gave written informed consent. All tissue samples were obtained at the University of Miami and were approved by its ethics committee and institutional review board.
Open Access
This article is distributed under the terms of the Creative Commons Attribution 4.0 International License (
http://​creativecommons.​org/​licenses/​by/​4.​0/​
), which permits unrestricted use, distribution, and reproduction in any medium, provided you give appropriate credit to the original author(s) and the source, provide a link to the Creative Commons license, and indicate if changes were made. The Creative Commons Public Domain Dedication waiver (
http://​creativecommons.​org/​publicdomain/​zero/​1.​0/​
) applies to the data made available in this article, unless otherwise stated.