12.01.2016 | Original Article | Ausgabe 11/2016 Open Access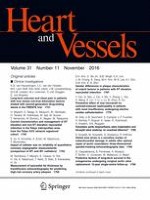 Current characteristics and management of ST elevation and non-ST elevation myocardial infarction in the Tokyo metropolitan area: from the Tokyo CCU network registered cohort
Zeitschrift:
Autoren:

Hideki Miyachi, Atsushi Takagi, Katsumi Miyauchi, Masao Yamasaki, Hiroyuki Tanaka, Masatomo Yoshikawa, Mike Saji, Makoto Suzuki, Takeshi Yamamoto, Wataru Shimizu, Ken Nagao, Morimasa Takayama
Abstract
Limited data exists on ST-segment elevation myocardial infarction (STEMI) and non-STEMI (NSTEMI) managed by a well-organized cardiac care network in a metropolitan area. We analyzed the Tokyo CCU network database in 2009–2010. Of 4329 acute myocardial infarction (AMI) patients including STEMI (
n
= 3202) and NSTEMI (
n
= 1127), percutaneous coronary intervention (PCI) was performed in 88.8 % of STEMI and 70.4 % of NSTEMI patients. Mean onset-to-door and door-to-balloon times in STEMI patients were shorter than those in NSTEMI patients (167 vs 233 and 60 vs 145 min, respectively,
p
< 0.001). Coronary artery bypass graft surgery was performed in 4.2 % of STEMI and 11.4 % of NSTEMI patients. In-hospital mortality was significantly higher in STEMI patients than NSTEMI patients (7.7 vs 5.1 %,
p
< 0.007). Independent correlates of in-hospital mortality were advanced age, low blood pressure, and high Killip classification, statin-treated dyslipidemia and PCI within 24 h were favorable predictors for STEMI. High Killip classification, high heart rate, and hemodialysis were significant predictors of in-hospital mortality, whereas statin-treated dyslipidemia was the only favorable predictor for NSTEMI. In conclusion, patients with MI received PCI frequently (83.5 %) and promptly (door-to-balloon time; 66 min), and had favorable in-hospital prognosis (in-hospital mortality; 7.0 %). In addition to traditional predictors of in-hospital death, statin-treated dyslipidemia was a favorable predictor of in-hospital mortality for STEMI and NSTEMI patients, whereas hemodialysis was the strongest predictor for NSTEMI patients.