03.03.2020 | Ausgabe 4/2020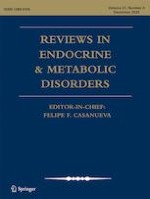 Current perspectives of oleic acid: Regulation of molecular pathways in mitochondrial and endothelial functioning against insulin resistance and diabetes
Zeitschrift:
Autoren:

Kanwal Rehman, Kamran Haider, Komal Jabeen, Muhammad Sajid Hamid Akash
Wichtige Hinweise
Kanwal Rehman and Kamran Haider contributed equally to this work.
Publisher's note
Springer Nature remains neutral with regard to jurisdictional claims in published maps and institutional affiliations.
Abstract
Insulin resistance (IR) and type 2 diabetes mellitus (T2DM) is a leading cause of deaths due to metabolic disorders in recent years. Molecular mechanisms involved in the initiation and development of IR and T2DM are multiples. The major factors include mitochondrial dysfunction which may cause incomplete fatty acid oxidation (FAO). Oleic acid upregulates the expression of genes causing FAO by deacetylation of PGC1α by PKA-dependent activation of SIRT1-PGC1α complex. Another potent factor for the development of IR and T2DM is endothelial dysfunction as damaged endothelium causes increased release of inflammatory mediators such as TNF-α
,
IL-6, IL-1β, sVCAM, sICAM, E-selectin and other proinflammatory cytokines. While, on the other hand, oleic acid has the ability to regulate E-selectin, and sICAM expression. Rest of the risk factors may include inflammation, β-cell dysfunction, oxidative stress, hormonal imbalance, apoptosis, and enzyme dysregulation. Here, we have highlighted how oleic acid regulates underlying causatives factors and hence, keeps surpassing effect in prevention and treatment of IR and T2DM. However, the percentage contribution of these factors in combating IR and ultimately averting T2DM is still debatable. Thus, because of its exceptional protective effect, it can be considered as an improved therapeutic agent in prophylaxis and/or treatment of IR and T2DM.