15.10.2015 | Original Article | Ausgabe 8/2016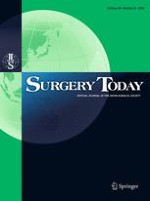 Current surgical management of abdominal aortic aneurysm with concomitant malignancy in the endovascular era
Zeitschrift:
Autoren:

Koji Maeda, Takao Ohki, Yuji Kanaoka, Naoki Toya, Takeshi Baba, Masayuki Hara, Shin Hagiwara
Abstract
Purpose
The management of abdominal aortic aneurysm (AAA) with concomitant malignancy is controversial in terms of which treatment should come first. The aim of this study was to evaluate the outcomes of endovascular aortic repair (EVAR) as the initial treatment prior to the treatment of malignancy for patients with AAA and concomitant malignancy.
Methods
EVAR for AAA was performed in 1,175 cases between April 2007 and April 2014, of which 63 patients (5.4 %) who had AAAs and malignancy were identified. The clinical details and outcomes for patients with AAA and malignancy were evaluated.
Results
The mean age of patients with AAA and malignancy was 76.6 years. Thirty-three patients underwent EVAR before surgery for their malignancies, and 30 patients received chemoradiotherapy following EVAR. No significant differences in the length of stay (LOS), 30-day mortality, and morbidities were observed in all groups. However, the overall survival rate of the patients who had AAA and malignancy was lower than those who had only AAA (
P
< 0.0001). The mean intervals from EVAR to surgery and chemoradiotherapy for malignancy in our institution were 13.4 days (overall 38.1 days) and 5.8 days (overall 18.2 days), respectively.
Conclusion
EVAR for patients with AAA and concomitant malignancy may be acceptable in terms of a short LOS and resulting in treatment for malignancy without delay.