01.01.2012 | Review | Ausgabe 1/2012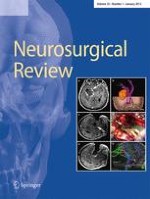 Current therapeutic options and novel molecular markers in skull base chordomas
Zeitschrift:
Autoren:

Filippo Gagliardi, Nicola Boari, Paola Riva, Pietro Mortini
Wichtige Hinweise
Comments
Benedicto Oscar Colli, Ribeirão Preto, Brasil
I would like to congratulate the authors by this laborious and good work. The authors performed a detailed review of the literature on chordoma. This review includes epidemiological, pathological and clinical aspects, but the focus is on the current treatment and on the molecular biology findings of the disease.
The topic on molecular biology should be outstanding because better understanding of this disease and further development of new therapeutic techniques probably will be based on these knowledge. Therefore, this review will be a very helpful resource for clinical and basic sciences researchers interested on the treatment of patients with chordomas.
Bernard George, Paris, France
This is a very useful review of literature about chordomas of the skull base, taking out the relevant data regarding all the aspects of this challenging pathology. Chordomas are a supposedly benign tumors but which behave at least as a locally malignant tumor. In fact about 20% present with metastases along their evolution. All the others exhibit more or less rapidly a recurrence. In our series of more than a hundred cases of various locations, we have never seen a single case that could be cured. The best results are two cases: one recurred after surgery and radiotherapy after 21 years; the other recurred after surgery only, without radiotherapy after 11 years. On the other side, there are more than 10% which recurred in less than 2 or even 1 year. This is a fact: there is a huge heterogeneity in the biological behaviour among chordomas; it must be added that there is also a lack of markers indicating the level of aggressiveness for each chordoma. As it is well reviewed in this paper that no clear parameter, whether it is clinical, radiological, histological or biological, permits to adjust the adequate therapy to each case. This explains the still existing controversies about the therapeutic strategy. One is non-aggressive, proposing a simple decompression more or less followed by radiotherapy, therefore waiting for a better appreciation of the evolution in each case; at the opposite is the strategy of being very aggressive at first presentation with as radical a surgery as possible followed by protontherapy, in every case even those which will prove to be slow growing. This is the strategy we apply at Lariboisiere after a study on chordomas of the cranio-cervical junction (1) and confirmed in a following study on chordomas of any location (2). Radical surgery plus protontherapy provided the best results when applied at first presentation. On the contrary, the same policy was not really beneficial in recurrent cases. For these recurrent cases, we still need a complementary treatment. In this paper there is an extensive review of the current data on chemotherapy. This is sometimes hard to follow but is absolutely worthy of reading and understanding, first because this is by these studies that biological markers can be expected to be found and consequently that new efficient treatments will be discovered. This part of this paper is absolutely crucial, and the authors should be thanked for the efforts they made to summarize these studies and to present them as clearly as possible. However for the moment, no treatment has been demonstrated to improve the results.
For the moment surgery remains the key element of the treatment, any effort should be done to remove as much tumor as possible and especially in the regions where radiotherapy cannot be applied safely (near the brain stem and optic pathways). Obviously without knowing what the speed of growth of each case is, this must not be done at any mean and quality of life should be preserved. New developments of surgical technique, particularly endoscopic endonasal approach permit today to better achieve this goal.
1. Carpentier A, Polivka M, Blanquet A, George B (2002) Suboccipital and cervical chordomas: the value of aggressive treatment at first presentation of the disease. J Neurosurg 97(5) 1070–1077
2. Yasuda M, Bresson D, Chibbaro S, Polivka M, George B (2011) Chordomas of the skull base and cervical spine: clinical outcomes associated with a multidisciplinary surgical resection combined with proton beam radiation in 40 patients. Neurosurg Rev (in press)
Amir Samii, Venelin Gerganov, Hannover, Germany
The authors performed an extensive review on the current knowledge about skull base chordomas biology, management and outcome of treatment. A promising new trend—the development of molecular targeted therapies and the application of chemotherapy that may revolutionize chordoma management in the future—has been highlighted. The authors point that that the recurrence rate of chordomas is related mainly to the biological tumor characteristics and to a lesser extent on the extent of resection and the post-operative radiotherapy. Some chordomas have a milder evolution and grow slowly, while others have more aggressive behaviour, with rapid local recurrence and even distal spread.
The generally accepted optimal treatment of skull base chordomas is radical surgery followed by proton or photon radiotherapy. The surgical approach should be selected individually taking into consideration the clinical symptoms and tumor characteristics, in particular its size, extension pattern, involvement of neurovascular structures and bone destruction. If only partial removal is possible, a second procedure via a different approach should be considered. Importantly, the attempt at complete tumor removal should not endanger important neural and vascular structures and should not impact the patients quality of life. In case radical tumor removal is impossible, every effort should be made to decompress nervous structures and allow safe and effective radiotherapy.
The refinement of the endoscopic technique and the elaboration of the endonasal endoscopic approach to the clival region have been a major recent advancement. This technique promotes more radical and safe tumor removal and has become a mainstay of the operative strategy of skull base chordomas. Extensive tumors may be removed via a combined endonasal and transcranial approaches, optimally with interdisciplinary cooperation. The utilization of neuronavigation during surgery allows for precise trajectory planning, accurate performing of the approach and control of extent of tumor resection. Important technological development in view of the significance of radical chordoma removal was the introduction of high-field intraoperative MRI devices, which allow almost real-time control of the extent of resection and detection of hidden tumor remnants. The combined use of these tools—as in the navigation-guided endonasal endoscopic approach with intraoperative high-field MRI control, promoted by us—is best suited to achieve the goals of skull base chordoma surgery.
Abstract
Chordomas are extremely rare tumours. They arise in the spheno-occipital region in 35% of cases. Chordomas usually present benign histopathological features but often exhibit a malignant clinical behaviour. Radical surgical removal and high-dose radiation therapy seem to be effective in tumour control and to improve survival rate. Despite the advancements in microsurgical techniques and the development of radiation therapies, clival chordomas still represent a challenge. Nevertheless it appears that chordomas that have been resected to the same extent and that received post-operative radiotherapy might exhibit different rates of regrowth. This result supports the hypothesis that the recurrence rate of chordomas might be dependent on biological variables other than the extent of resection and the post-operative radiotherapy. Genetic and molecular studies on oncogenesis of chordomas are still limited, but they represent the basis for the development of molecular targeted therapies. We present a review of the current knowledge about skull base chordomas biology, therapeutic options and related clinical outcome.