08.05.2017 | Local-Regional Evaluation and Therapy (EP Mamounas, Section Editor) | Ausgabe 2/2017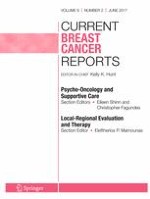 Current Trends in Localization Techniques for Non-palpable Breast Lesions: Making the Invisible Visible
Zeitschrift:
Autoren:

Jinny Gunn, Sarah McLaughlin
Wichtige Hinweise
This article is part of the Topical Collection on
Local-Regional Evaluation and Therapy
Abstract
Purpose of review
With ever more sophisticated imaging modalities and screening programs, the incidence of small, non-palpable breast cancers is increasing. This poses a unique challenge to surgeons who seek to obtain negative margins while maintaining a cosmetically acceptable breast. Herein, we review the current localization techniques available and discuss the latest advancements.
Recent findings
While wire localization remains the historical gold standard for non-palpable breast lesion localization, many new invasive and non-invasive techniques have been utilized in recent years. These techniques can be performed by the surgeon alone or in conjunction with a radiologist partner. Multiple new techniques employ the insertion or deposit of a radioactive device or substance to identify the lesion. Positive margin status, clinician and patient comfort, and procedural time and ease have been serially evaluated as means to judge differences between localization techniques. However, the literature measuring these variables is heterogeneous with respect to definition across techniques making direct comparisons difficult. Further, the recent widespread adoption of "no tumor" at ink as a negative margin has revolutionized and standardized what constitutes a negative margin in invasive breast cancer. As a result, some of the previously reported benefits to certain localization techniques may not be as relevant today.
Summary
Localization techniques for non-palpable breast lesions are evolving. Trends away from wire-guided localization to radioactive-implanted sources to surgeon-directed, ultrasound-guided or non-radioactive implantable devices are occurring. Unfortunately, current literature is heterogenous with respect to type of localization technique and outcomes reported, making direct comparison between the multiple localization techniques difficult. As such, the main differences among techniques remain with volume of resection, source radioactivity, institutional resources, and surgeon and radiologist preference. The future will likely see implementation of technology that has the benefits of current techniques but without the associated limitations of tracking radioactive sources.