01.03.2012 | Original Paper | Ausgabe 3/2012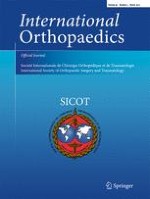 Custom total hip arthroplasty in skeletal dysplasia
Zeitschrift:
Autoren:

Liza Osagie, Mark Figgie, Mathias Bostrom
Abstract
Purpose
Osteochondrodysplasias are characterised by aberrant cartilage and bone development; consequently, patients may be subject to premature hip degeneration. In this population hip arthroplasty outcomes are variable. This series reviews the use of custom femoral implants in total hip replacements for patients with severe skeletal dysplasia.
Methods
We reviewed 14 hips in nine patients with genetic dwarfism. Computed tomography (CT) scans of the pelvis and femurs were used to create custom titanium stems. Postoperative radiographs were reviewed for migration, osteolysis, fracture and restoration of leg length. Pre- and postoperative Harris hip scores (HHS) were compared, with a mean follow-up of 36.3 months. Mean age was 36.5 years (range 15–50 years) and mean height was 48 inches (range 42–55 inches). Three joints were classified as Crowe type I, two type II, three type III and six type IV.
Results
Three hips (21%) required revision: two for stem migration and one for acetabular osteolysis. Eleven hips (79%) were stable with signs of osseointegration. No fractures, nerve damage or dislocations occurred. Two stems required cement fixation, and no liners were constrained. Significant osteolysis was seen on three radiographs. All patients walked independently, and mean HHS improved from 45 (24–58) to 71 (47–89). All leg length discrepancies were restored to within 3 mm of equal.
Conclusions
This study reports good midterm outcomes in a variety of skeletal dysplasias, thus confirming the efficacy of custom femoral implants in the management of this patient group.