01.12.2017 | Research | Ausgabe 1/2017 Open Access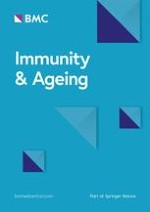 CXCL-16, IL-17, and bone morphogenetic protein 2 (BMP-2) are associated with overweight and obesity conditions in middle-aged and elderly women
Zeitschrift:
Autoren:

Silvana Mara Turbino Luz Ribeiro, Laís Roquete Lopes, Guilherme de Paula Costa, Vivian Paulino Figueiredo, Deena Shrestha, Aline Priscila Batista, Roney Luiz de Carvalho Nicolato, Fernando Luiz Pereira de Oliveira, Juliana Assis Silva Gomes, Andre Talvani
Abstract
Background
The current concept of overweight/obesity is most likely related to a combination of increased caloric intake and decreased energy expenditure. Widespread inflammation, associated with both conditions, appears to contribute to the development of some obesity-related comorbidities. Interventions that directly or indirectly target individuals at high risk of developing obesity have been largely proposed because of the increasing number of overweight/obese cases worldwide. The aim of the present study was to assess CXCL16, IL-17, and BMP-2 plasma factors in middle-aged and elderly women and relate them to an overweight or obese status. In total, 117 women were selected and grouped as eutrophic, overweight, and obese, according to anthropometric parameters. Analyses of anthropometric and circulating biochemical parameters were followed by plasma immunoassays for CXCL-16, IL-17, and BMP-2.
Results
Plasma mediators increased in all overweight and obese individuals, with the exception of BMP-2 in the elderly group, whereas CXCL16 levels were shown to differentiate overweight and obese individuals. Overweight and/or obese middle-aged and elderly individuals presented with high LDL, triglycerides, and glycemia levels. Anthropometric parameters indicating increased-cardiovascular risk were positively correlated with CXCL-16, BMP-2, and IL-17 levels in overweight and obese middle-aged and elderly individuals.
Conclusion
This study provides evidence that CXCL-16, IL-17, and BMP-2 are potential plasma indicators of inflammatory status in middle-aged and elderly women; therefore, further investigation of obesity-related comorbidities is recommended. CXCL16, in particular, could be a potential marker for middle-aged and elderly individuals transitioning from eutrophic to overweight body types, which represents an asymptomatic and dangerous condition.