01.12.2020 | Research | Ausgabe 1/2020 Open Access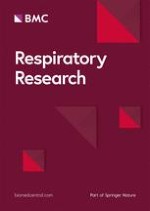 CXCR4+ cells are increased in lung tissue of patients with idiopathic pulmonary fibrosis
Zeitschrift:
Autoren:

Jade Jaffar, Kate Griffiths, Sara Oveissi, Mubing Duan, Michael Foley, Ian Glaspole, Karen Symons, Louise Organ, Glen Westall
Wichtige Hinweise
Supplementary information
Publisher's Note
Springer Nature remains neutral with regard to jurisdictional claims in published maps and institutional affiliations.
Abstract
Background
CXCR4, a transmembrane-receptor located on epithelial cells that is activated by CXCL12, may have a role in IPF via migration of CXCR4+ fibrocytes to the lung. However, its expression has not been fully characterised in idiopathic pulmonary fibrosis (IPF) or other fibrotic interstitial lung diseases (ILDs). CXCL12 is constitutively expressed in the bone marrow, and levels of CXCR4 regulate control of this signalling pathway. The aim of this study was to profile the expression of CXCR4 in lung tissue and peripheral circulation of patients with IPF and other fibrotic ILDs.
Methods
Expression of CXCR4 on peripheral blood mononuclear cells (PBMCs) was examined by flow cytometry in 20 patients with IPF and 10 age-matched non-disease control (NDC) donors. Levels of CXCL12 in human plasma were measured by ELISA. Expression of CXCR4, CXCL12, CD45, and e-cadherin was assessed in IPF (
n
 = 10), other fibrotic ILD (
n
 = 8) and NDC (n = 10) lung tissue by multiplex immunohistochemistry (OPAL) and slides were scanned using a Vectra 3 scanner. Cells were quantified with computer automated histological analysis software (HALO).
Results
In blood, the number of CXCR4+ cells was lower but the level of CXCL12 was higher in patients with IPF compared to NDC donors. Elevated CXCR4 expression was detected in lung tissue from patients with IPF and other fibrotic ILDs compared to NDC. There were higher levels of CXCR4+/e-cadherin+/CXCL12+ (epithelial) cells in IPF lung tissue compared to NDC, but there was no difference in the numbers of CXCR4+/CD45+/CXCL12+ (myeloid) cells between the two groups.
Conclusions
This report demonstrates that CXCR4 is overexpressed not only in IPF but also in other ILDs and expression is particularly prominent within both honeycomb cysts and distal airway epithelium. This observation supports the hypothesis that CXCR4 may drive tissue fibrosis through binding its specific ligand CXCL12. Although CXCR4 expressing cells could be either of epithelial or myeloid origin it appears that the former is more prominent in IPF lung tissue. Further characterization of the cells of the honeycomb cyst may lead to a better understanding of the fibrogenic processes in IPF and other end-stage fibrotic ILDs.