01.04.2010 | Original Article | Ausgabe 4/2010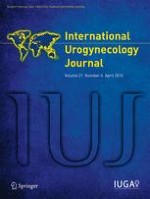 Cyclical estrogen and free radical damage to the rabbit urinary bladder
Zeitschrift:
Autoren:

Alexandra Rehfuss, Catherine Schuler, Christina Maxemous, Robert E. Leggett, Robert M. Levin
Wichtige Hinweise
This material is based upon a work supported in part by the Office of Research and Development Medical Research Service, Department of Veterans Affairs and in part by the Capital Region Medical Research Foundation.
Abstract
Introduction and hypothesis
There are a number of lower urinary tract dysfunctions (LUTD) that occur primarily in women. Our hypothesis is that cyclical estrogen will produce LUTD in part by the generation of free radicals and oxidative damage to cellular and subcellular membranes.
Methods
Twenty female rabbits were divided into five groups: control, ovariectomized (Ovx), Ovx receiving continuous estrogen, Ovx receiving cyclical estrogen ending off estrogen, and Ovx receiving cyclical estrogen ending on estrogen. Statistical analyses used ANOVA followed by the Tukey analysis for individual differences.
Results
High estrogen increased bladder mass, contraction, compliance, and blood flow and decreased oxidative damage. Low estrogen decreased bladder mass, contraction, compliance, and blood flow and increased oxidative damage.
Conclusions
The decreased blood flow associated with increased oxidative damage demonstrates that cyclical damage to cellular membranes occurs. This supports the hypothesis that cycling estrogen may play a role in the etiology of LUTD of women.