01.12.2012 | Research | Ausgabe 1/2012 Open Access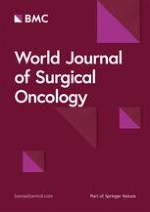 Cyclin D1 overexpression and poor clinical outcomes in Taiwanese oral cavity squamous cell carcinoma
Zeitschrift:
Autoren:

Shiang-Fu Huang, Sou-De Cheng, Wen-Yu Chuang, I-How Chen, Chun-Ta Liao, Hung-Ming Wang, Ling-Ling Hsieh
Wichtige Hinweise
Electronic supplementary material
The online version of this article (doi:
10.​1186/​1477-7819-10-40
) contains supplementary material, which is available to authorized users.
Shiang-Fu Huang, Sou-De Cheng contributed equally to this work.
Competing interests
The authors declare that they have no competing interests.
Authors' contributions
SFH, SDC and LLH conceived the study. WYC performed the scoring of immunohistochemistry staining. SFH, IHC, CTL and HMW collected the cases and clinical information. SFH and LLH interpreted the staining results and performed the statistical analysis. SFH performed the literature review and wrote the manuscript. SDC and LLH supervised the experiments. LLH supervised the manuscript writing. All authors read and approved the final manuscript.
Abstract
Background
Cyclin D1 gene regulates cell cycle and plays an important role in the tumorigenesis of human cancers. The association between cyclin D1, clinicopathologic parameters and prognosis in oral cavity squamous cell carcinoma (OSCC) is inconclusive.
Methods
A total of 264 male OSCCs were examined for cyclin D1 protein expression using immunohistochemistry (IHC). The expression levels of cyclin D1 were defined as overexpression when more than 10% of tumor cells displayed nuclear staining with moderate to strong intensity.
Results
Overexpression of cyclin D1 was found in 97 (36.7%) OSCCs. Cyclin D1 protein overexpression was significantly associated with lymph node metastasis (P = 0.002), tumor cell differentiation (P = 0.031) and tumor stage (P = 0.051), but not associated with age onset, cigarette smoking, alcohol drinking, or areca quid chewing. Overexpression of cyclin D1 was also significantly associated with poor clinical outcomes in terms of disease-free survival (DFS, P = 0.002) and overall survival (OS, P < 0.001). The effects of cyclin D1 protein overexpression on DFS (hazard ratio (HR) = 1.540; 95% confidence interval (CI), 1.068 - 2.222) and OS (HR = 1.702; 95% CI, 1.168 - 2.480) were still existed after adjusting for clinicopathological paremeters (such as age, primary tumor status, tumor cell differentiation, and lymph node metastasis) using logistic multivariate analysis.
Conclusion
Cyclin D1 protein worked as an independent prognostic factor and can be as a biomarker for the aggressiveness of OSCC.