01.11.2009 | Original Article | Ausgabe 11/2009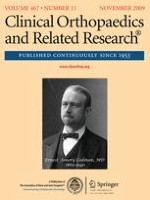 Cyclooxygenase-2 Overexpression Predicts Poor Survival in Patients with High-grade Extremity Osteosarcoma: A Pilot Study
Zeitschrift:
Autoren:

MD Hiroshi Urakawa, MD, PhD Yoshihiro Nishida, MD, PhD Takahiro Naruse, MD, PhD Hiroatsu Nakashima, MD, PhD Naoki Ishiguro
Wichtige Hinweise
One or more of the authors (YN) have received funding from The Nakatomi Foundation and the Ministry of Education, Culture, Sports, Science and Technology of Japan (Grant-in-Aid 20591751 for Scientific Research [C]).
Each author certifies that his institution has approved the human protocol for this investigation, that all investigations were conducted in conformity with ethical principles of research, and that informed consent was obtained.
This work was performed at Nagoya University Graduate School and School of Medicine.
Abstract
Several lines of evidence suggest cyclooxygenase-2 (COX-2) overexpression may be a causal factor for tumor growth and metastasis. However, there is no evidence COX-2 expression in a primary tumor correlates with clinical outcome of osteosarcoma. We examined expression levels of COX-2 immunohistochemically in 51 patients with extremity osteosarcoma who completed standard therapy and obtained complete initial regression of the tumor. Correlation of the positivity of staining with prognosis was analyzed. COX-2 was expressed in most of the cases. We found no correlation between COX-2 staining intensity and variables such as gender, age, anatomic site, necrosis after chemotherapy, and surgical stage. Strong COX-2 expression was associated with low metastasis-free survival. Age older than 20 years and strong COX-2 expression independently predicted increased risk of metastasis. Among seven patients with resectable lung metastasis, all three with greater COX-2 expression in the metastatic lesion than that in a primary site died of the disease. Our preliminary data suggest COX-2 overexpression in the primary tumor correlates with the occurrence of distant metastasis in patients with osteosarcoma and also may affect postmetastatic survival.
Level of Evidence:
Level IV, prognostic study. See the Guidelines for Authors for a complete description of levels of evidence.