11.10.2020 | Original Article | Ausgabe 2/2021 Open Access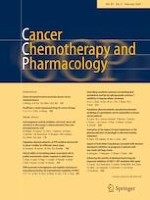 Cyclooxygenase activity mediates colorectal cancer cell resistance to the omega-3 polyunsaturated fatty acid eicosapentaenoic acid
Zeitschrift:
Autoren:

Milene Volpato, Nicola Ingram, Sarah L Perry, Jade Spencer, Amanda D Race, Catriona Marshall, John M Hutchinson, Anna Nicolaou, Paul M Loadman, P Louise Coletta, Mark A Hull
Wichtige Hinweise
Electronic supplementary material
The original online version of this article was revised: In the original publication of the article, curves, more data point and lines are missing in the Figure 2A. The corrected figure is given below.
Publisher's Note
Springer Nature remains neutral with regard to jurisdictional claims in published maps and institutional affiliations.
Abstract
Purpose
The naturally-occurring omega-3 polyunsaturated fatty acid eicosapentaenoic acid (EPA) is safe, well-tolerated and inexpensive, making it an attractive anti-cancer intervention. However, EPA has only modest anti-colorectal cancer (CRC) activity, when used alone. Both cyclooxygenase (COX) isoforms metabolise EPA and are over-expressed in CRC cells. We investigated whether COX inhibition increases the sensitivity of CRC cells to growth inhibition by EPA.
Methods
A panel of 18 human and mouse CRC cell lines was used to characterize the differential sensitivity of CRC cells to the growth inhibitory effects of EPA. The effect of CRISPR-Cas9 genetic deletion and pharmacological inhibition of COX-1 and COX-2 on the anti-cancer activity of EPA was determined using in vitro and in vivo models.
Results
Genetic ablation of both COX isoforms increased sensitivity of CT26 mouse CRC cells to growth inhibition by EPA in vitro and in vivo. The non-selective COX inhibitor aspirin and the selective COX-2 inhibitor celecoxib increased sensitivity of several human and mouse CRC cell lines to EPA in vitro. However, in a MC38 mouse CRC cell tumour model, with dosing that mirrored low-dose aspirin use in humans, thereby producing significant platelet COX-1 inhibition, there was ineffective intra-tumoral COX-2 inhibition by aspirin and no effect on EPA sensitivity of MC38 cell tumours.
Conclusion
Cyclooxygenase inhibition by non-steroidal anti-inflammatory drugs represents a therapeutic opportunity to augment the modest anti-CRC activity of EPA. However, intra-tumoral COX inhibition is likely to be critical for this drug-nutrient interaction and careful tissue pharmacodynamic profiling is required in subsequent pre-clinical and human studies.