01.03.2012 | Pediatric Original | Ausgabe 3/2012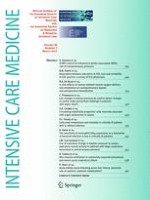 Cyclosporine treatment improves mesenteric perfusion and attenuates necrotizing enterocolitis (NEC)-like intestinal injury in asphyxiated newborn piglets during reoxygenation
Zeitschrift:
Autoren:

Richdeep S. Gill, Namdar Manouchehri, Tze-Fun Lee, Woo Jung Cho, Aducio Thiesen, Thomas Churchill, David L. Bigam, Po-Yin Cheung
Wichtige Hinweise
Electronic supplementary material
The online version of this article (doi:
10.​1007/​s00134-011-2436-5
) contains supplementary material, which is available to authorized users.
Abstract
Purpose
Asphyxia-related intestinal injury in neonates may present similar to necrotizing enterocolitis (NEC) and is partially associated with hypoxia-reoxygenation injury. Cyclosporine has been shown to reduce myocardial cell death following ischemia–reperfusion. We hypothesize that cyclosporine treatment may attenuate NEC-like intestinal injury in asphyxiated newborn piglets during reoxygenation.
Methods
Twenty piglets (1–4 days old) were acutely anesthetized and instrumented for continuous monitoring of systemic hemodynamics and superior mesenteric arterial (SMA) flow. After stabilization, normocapnic alveolar hypoxia (10–15% oxygen) was instituted for 2 h followed by reoxygenation with 100% oxygen for 0.5 h, then 21% for 3.5 h. The piglets were blindly block-randomized to receive cyclosporine (10 mg/kg) or placebo (normal saline) boluses at 5 min of reoxygenation (
n
= 8/group). A sham-operated group was included (
n
= 4) and received no hypoxia-reoxygenation. Intestinal samples were collected for tissue lactate and histological assessment (Park's criteria).
Results
At 2 h of hypoxia, piglets had cardiogenic shock (cardiac output 45% of baseline), hypotension (mean arterial pressure 30 mmHg), acidosis (pH 7.04), and decreased superior mesenteric perfusion (all
P
< 0.05 vs. sham-operated group, ANOVA). Cyclosporine treatment increased SMA flow (114 ± 6 vs. 78 ± 19% of baseline of controls, respectively) with improved SMA oxygen delivery and intestinal tissue lactate (all
P
< 0.05). Some control piglets had NEC-like injuries including pneumatosis intestinalis, which were attenuated in cyclosporine-treated piglets (
P
< 0.05 vs. controls).
Conclusions
This is the first study to demonstrate that post-resuscitation administration of cyclosporine improves mesenteric perfusion and attenuates NEC-like intestinal injury in newborn piglets following asphyxia-reoxygenation.