12.05.2017 | Original Article | Ausgabe 6/2017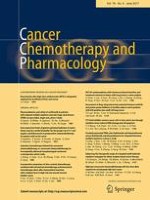 CYT-Rx20 inhibits ovarian cancer cells in vitro and in vivo through oxidative stress-induced DNA damage and cell apoptosis
Zeitschrift:
Autoren:

Yen-Yun Wang, Yuk-Kwan Chen, Stephen Chu-Sung Hu, Ya-Ling Hsu, Chun-Hao Tsai, Tsung-Chen Chi, Wan-Ling Huang, Pei-Wen Hsieh, Shyng-Shiou F. Yuan
Wichtige Hinweise
Electronic supplementary material
The online version of this article (doi:
10.​1007/​s00280-017-3330-9
) contains supplementary material, which is available to authorized users.
Abstract
Purpose
The β-nitrostyrene family has been previously reported to possess anticancer property. However, the biological effects of β-nitrostyrenes on ovarian cancer and the underlying mechanisms involved remain unclear. In the present study, we synthesized a β-nitrostyrene derivative, CYT-Rx20 3′-hydroxy-4′-methoxy-β-methyl-β-nitrostyrene), and investigated its anticancer effects and the putative pathways of action in ovarian cancer.
Methods
The effects of CYT-Rx20 were analyzed using cell viability assay, reactive oxygen species (ROS) generation assay, FACS analysis, annexin V staining, immunostaining, comet assay, immunoblotting, soft agar assay, migration assay, nude mice xenograft study and immunohistochemistry.
Results
CYT-Rx20 induced cytotoxicity in ovarian cancer cells by promoting cell apoptosis via ROS generation and DNA damage. CYT-Rx20-induced cell apoptosis, ROS generation and DNA damage were reversed by thiol antioxidants. In addition, CYT-Rx20 inhibited ovarian cancer cell migration by regulating the expression of epithelial to mesenchymal transition (EMT) markers. In nude mice, CYT-Rx20 inhibited ovarian tumor growth accompanied by increased expression of DNA damage marker γH2AX and decreased expression of EMT marker Vimentin.
Conclusions
CYT-Rx20 inhibits ovarian cancer cells in vitro and in vivo, and has the potential to be further developed into an anti-ovarian cancer drug clinically.