01.12.2017 | Case report | Ausgabe 1/2017 Open Access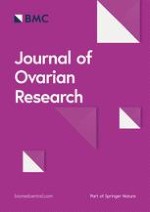 Cytochrome P450 oxidoreductase deficiency caused by R457H mutation in
POR

gene in Chinese: case report and literature review
Zeitschrift:
Autoren:

Yang Bai, Jinhui Li, Xiaoli Wang
Abstract
Background
Cytochrome P450 oxidoreductase deficiency (PORD) is a rare disease exhibiting a variety of clinical manifestations. It can be difficult to differentiate with other diseases such as 21-hydroxylase deficiency (21-OHD), polycystic ovary syndrome (PCOS) and Antley–Bixler syndrome (ABS). Nearly 100 cases of PORD have been reported worldwide. However, the genetic characters and clinical management are still unclear, especially in China.
Case presentation
In this study, we report a 27-year-old female Chinese patient who first presented with amenorrhea and recurrence of large ovary cyst. She was misdiagnosed with PCOS and non-classical 21-OHD due to ovary cysts and elevated 17-hydroxy-progesterone. The patient's complaining of a mild difficulty of bending the metacarpophalangeal joints reminded us to consider PORD, which usually presents with skeletal deformities and sexual dysfunction. The diagnosis of PORD was confirmed by genetic analyses, which showed the patient harboring a homozygous missense mutation in the
POR
gene (R457H) and her parents carrying the heterozygous mutation. The patient was treated with low-dose corticosteroids and estrogen/progesterone sequential therapy, and her ovarian cyst gradually reduced with regular menstruation in the follow-up. Moreover, the clinical and genetic characteristics of 104 previously reported PORD cases were also summarized and analyzed.
Conclusions
PORD is a very rare disease which can be easily misdiagnosed in mild cases. Clinicians should keep in mind of this disease in patients with sexual dysfunction, especially combined with special skeletal deformities. Our data could provide a consciously understanding of this disease for clinic practicers. Low-dose corticosteroids combined with estrogen/progesterone sequential therapy will be effective in PORD patients with recurrence of large ovary cyst. The fact that the reported PORD patients in China carrying an identical variant R457H in
POR
gene also give us a viewpoint that R457H mutation in POR gene maybe important in causing PORD in Chinese as same as in Japanese.