01.12.2017 | Research article | Ausgabe 1/2017 Open Access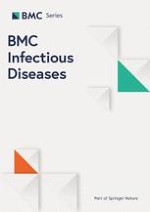 Cytomegalovirus infection in HIV-infected versus non-infected infants and HIV disease progression in Cytomegalovirus infected versus non infected infants early treated with cART in the ANRS 12140—Pediacam study in Cameroon
Zeitschrift:
Autoren:

Anfumbom K. W. Kfutwah, Paul Alain T. Ngoupo, Casimir Ledoux Sofeu, Francis Ateba Ndongo, Georgette Guemkam, Suzie Tetang Ndiang, Félicité Owona, Ida Calixte Penda, Patrice Tchendjou, Christine Rouzioux, Josiane Warszawski, Albert Faye, Mathurin Cyrille Tejiokem
Abstract
Background
The outcome of CMV/HIV co-infection in infants treated early with combined antiretroviral therapy (cART) in resource-limited settings has not been described.
We aimed to estimate the prevalence and identify factors associated with early CMV infection in HIV-infected and non-infected infants included in a study in Cameroon, and to compare HIV disease progression and survival after 1 year of early cART, following infants' CMV status.
Methods
HIV-infected infants followed from birth or from HIV diagnosis before 7 months old and HIV-uninfected infants born to HIV-infected or uninfected mothers were tested for CMV at a median age of 4.0 months [Interquartile range (IQR): 3.4–4.9]. Multivariable logistic regression was performed to identify factors associated with CMV infection. Early cART was offered to HIV-infected infants: mortality, immunological and virological outcomes were assessed.
Results
Three hundred and sixty-nine infants were tested. The proportion of infants infected with CMV at baseline was significantly higher in HIV-infected than in HIV-uninfected groups (58.9% (86/146) vs 30.0% (67/223),
p
 < 0.001). At baseline, median CMV viral load was higher in HIV-infected (3.7 log copies/ml [IQR; 3.1–4.3]) than in HIV-uninfected infants (2.8 log copies [IQR; 2.1–3.4],
p
 < 0.001). cART was initiated in 90% of HIV-infected infants (132/146) at a median age of 4.0 months (IQR; 3.2–5.9); in this sub-group CMV infection was independently associated with being followed from the time of HIV diagnosis rather than from birth (aOR = 3.1, 95%CI [1.2–8.0]), born to a non-single mother (aOR = 3.4[1.4–8.1]), and breastfeeding (aOR = 7.3 [2.7–19.4]). HIV-infected infants were retested after a median of 7.1 months [4.8–9.5]: CMV was undetectable in 37 of the 61 (60.7%) initially CMV-infected cases and became detectable in 8 of the 38 (21.1%) initially CMV-negative cases. After 1 year of cART, the probability of death (0.185 vs 0.203;
p
 = 0.75), the proportion of cases with HIV RNA viral load <400 copies/ml (75.5% vs 61.5%;
p
 = 0.17) and the mean CD4 percentage increase (10.97% vs 6.88%;
p
 = 0.15) did not differ between CMV+ and CMV- infants.
Conclusions
We observed a high prevalence of CMV infection among HIV-infected infants. Early initiation of cART may have limited the negative impact of CMV even in the absence of specific anti-CMV treatment.