01.12.2018 | Case Report | Ausgabe 1/2018 Open Access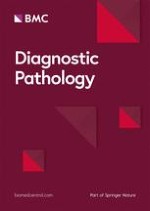 Cytopathological findings of proliferating pilomatricoma misdiagnosed as a malignant parotid gland tumor
Zeitschrift:
Autoren:

Nozomu Kurose, Manabu Yamashita, Mariko Nakano, Xin Guo, Akihiro Shioya, Satoko Nakada, Hiroshi Minato, Sohsuke Yamada
Abstract
Background
Pilomatricoma is a relatively common benign cutaneous adnexal neoplasm with differentiation towards the hair matrix, inner sheath of hair follicle and hair cortex. Proliferating pilomatricoma is a rare variant of pilomatricoma that can rapidly increase and may be misidentified as a malignant tumor. We herein report the cytopathological findings of proliferating pilomatricoma misdiagnosed as a malignant parotid tumor.
Case presentation
A 64-year-old man noticed an acne-like nodule in the left parotid region. It was painless, but it increased to a maximum diameter of 4.5 cm over 2 years. Clinically, left parotid gland carcinoma was suspected, and fine-needle aspiration cytology was performed. Clusters of epithelial cells were observed in a necrotic background, and malignant epithelial cells derived from salivary glands were suspected. Histologically, the resected tumor was diagnosed as proliferating pilomatricoma composed of basophilic cells and shadow cells apart from the parotid gland. However, on a re-evaluation of the cytological specimens, the irregular-shaped epithelial cells were considered to be from basophilic cells. Shadow cells with nuclear disappearance were also confirmed. Tumor recurrence and metastasis have not been observed in the four years since surgery.
Conclusion
The present case was first interpreted as a malignant parotid gland tumor, but it was actually a benign skin appendage tumor. Pilomatricoma sometimes rapidly increases and may be mistaken for a malignant tumor. Although it is critical to recognize not only basophilic cells but also shadow cells, it cannot be diagnosed by cytological findings. The final diagnosis should be made on excision specimen only.