01.12.2016 | Review | Ausgabe 1/2016 Open Access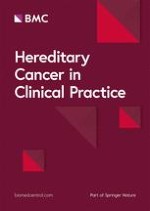 Cytotoxic and targeted therapy for hereditary cancers
Zeitschrift:
Autoren:

Aglaya G. Iyevleva, Evgeny N. Imyanitov
Background
First tumor-predisposing germ-line mutations were discovered a quarter of century ago and were immediately translated into appropriate diagnostic tests [
1
–
5
]. Identification of mutation carriers among cancer patients, their yet healthy relatives and, to a lesser extent, some other individuals rapidly entered clinical routine and saved thousands of lives by delivering specific diagnostic and preventive efforts to the subjects at-risk. However, treatment schemes for hereditary and sporadic cancers remained virtually identical until this decade, therefore the genetic testing was usually considered rather as a part of the follow-up than the component of the initial decision-making process. We are currently witnessing a cultural change in clinical perception of hereditary cancers. It is getting increasingly recognized that many germ-line mutation-driven tumors develop via authentic molecular pathways and therefore have a unique spectrum of sensitivity to both conventional cytotoxic compounds and novel targeted drugs [
6
–
9
]. Many doctors now request rapid genetic testing at the time of treatment planning, and these attitudes are likely to become mandatory for the good clinical practice in a very near future. Here we review recent advances and controversies in the therapy of hereditary cancers (Table
1
).
Table 1
Examples of cytotoxic and targeted drugs showing promising activity towards hereditary cancers
| Hereditary cancer type | Drug |
| --- | --- |
| BRCA1/2-driven cancers (breast, ovarian, prostate, pancreatic, stomach, etc.) | Genotoxic agents: platinum compounds, PARP inhibitors, mitomycin C, pegylated doxorubicin, etc.; high dose chemotherapy |
| Hereditary non-polyposis colorectal cancer | Immune checkpoint inhibitors: pembrolizumab |
| Familial adenomatous polyposis | Non-steroidal anti-inflammatory drugs (sulindac) and EGFR inhibitors (erlotinib) |
| Tumors arising in patients with tuberous sclerosis (giant-cell astrocytomas, angiomyolipomas) | mTOR inhibitors: everolimus |
| Tumors associated with the basal-cell nevus syndrome (basal-cell carcinomas, keratocystic odontogenic tumors) | SMO inhibitors (vismodegib), COX2 inhibitors (celecoxib), antifungal drugs with Hedgehog pathway inhibitory activity (itraconazole) |
| Hereditary medullary thyroid cancer | RET inhibitors (vandetanib, cabozantinib) |
BRCA1 and BRCA2
Novel types of hereditary breast cancer
While BRCA1/2-related cancers have been studied with a high level of comprehension, the available information on clinical behavior of novel categories of hereditary breast cancer remains very limited. Importantly, BC arising in CHEK2, NBN/NBS1 and BLM heterozygotes usually demonstrates retention of the wild-type allele in the tumor, therefore there is no ground to expect selective chemosensitivity in these tumor types [
128
]. In agreement with mechanistic considerations, Chrisanthar et al. [
129
] observed several instances of resistance of CHEK2-associated BC to epirubicin. Pfeifer et al. [
17
] described 8 CHEK2 mutation carriers receiving neoadjuvant therapy, with none of them achieving pathologic complete response; 4 out of these 8 women experienced objective clinical response, however the reduction of the tumor size was observed only in 1 out of 4 patients treated by anthracycline-based therapy without taxanes. While data of Chrisanthar et al. [
129
] and Pfeifer et al. [
17
] indicate relative chemoresistance of CHEK2-driven BC at least to anthracyclines, a large study of Kriege et al. [
130
] provided conflicting evidence. The latter group described 62 CHEK2-mutated metastatic BC cases, and the response rates to cytotoxic and endocrine therapy did not differ between CHEK2 heterozygotes and mutation-free controls [
130
].
Hereditary colon cancer
Novel targeted agents for therapy of rare hereditary cancers
Medullary thyroid cancer is often driven by inherited activating mutation in RET oncogene. There are RET kinase inhibitors, vandetanib (Caprelsa, AstraZeneca) and cabozantinib (Cometriq, Exelixis), which demonstrate clinical activity against both hereditary and sporadic medullary thyroid carcinomas [
142
–
145
].
Everolimus (Afinitor, Novartis), an inhibitor of mTOR kinase, has been approved for the treatment of several tumor types. mTOR pathway is specifically activated in tumors arising in patients with tuberous sclerosis (TSC). Everolimus was systematically evaluated in TSC-related giant-cell astrocytomas and angiomyolipomas, and showed remarkable efficacy in these malignancies [
146
–
148
].
Vismodegib (Erivedge, Roche/Genentech) inhibits Hedgehog pathway via interaction with SMO protein. Its antitumor activity was examined in patients with basal-cell nevus (Gorlin) syndrome [
149
]. This drug reduced the size of existing basal-cell carcinomas and prevented the appearance of new lesions; however, 14 out of 26 subjects decided to discontinue the treatment due to adverse events. Vismodegib also showed some activity against keratocystic odontogenic tumors arising in patients with Gorlin syndrome [
150
]. There is evidence that this hereditary tumor disease may somehow be controlled with some other drugs. For example, a COX2 inhibitor, celecoxib slowed the increase of tumor burden in the treated patients as compared to placebo control [
151
]. Well-known triazol antifungal drugs (itraconazole, ketoconazole, posaconazole, etc.) turned out to have substantial inhibitory activity against Hedgehog pathway [
152
,
153
]. They are capable to induce regression of basal cell carcinomas at least in a subset of patients [
154
,
155
].
Conclusions and perspectives
The number of known hereditary cancer syndromes will rapidly grow within next several years, thanks to the invention of whole exome sequencing [
131
]. Many of already identified hereditary cancer types are represented by exceptionally rare instances of the disease, and future investigations are likely to reveal even more uncommon cancer syndromes. In addition, unlike many other medical conditions, genetic diseases are often population-specific, i.e. their spread is limited by a few ethnic groups. It is unrealistic to expect that each hereditary cancer type will be subjected to systematic laboratory investigations and comprehensive clinical trials. There are some approaches which may facilitate search for novel treatment strategies for orphan and/or hereditary cancer types. For instance, collection and analysis of biological material from these patients deserve to be encouraged. In addition, some ex vivo testing for tumor drug sensitivity may turn out to be particularly practical in this clinical setting [
156
]. There are also some bioinformatic tools pretending to predict drug sensitivity of the tumor based on its molecular characteristics [
157
]. Finally, several potentially practice-changing investigations in this field became possible due to availability of large clinical databases [
16
,
27
,
120
]. Well-designed retrospective studies may help to significantly improve the use of existing cancer therapies.
Abbreviations
aCGH, array comparative genomic hybridization; BC, breast cancer; EMEA, European Medicines Agency; FAP, familial adenomatous polyposis; FDA, Food and Drug Administration; HNPCC, hereditary non-polyposis colorectal cancer; HR, homologous recombination; LOH, loss of heterozygosity; MSI-H, high-level microsatellite instability; OC, ovarian cancer; PARP, poly(ADP-ribose) polymerase; PARPi, PARP inhibitors; pCR, pathologic complete response; PFS, progression-free survival; PLD, pegylated liposomal doxorubicin; TSC, tuberous sclerosis
ᅟ
ᅟ
Funding
This work has been supported by the Russian Scientific Fund (grant number 14-15-00528).
Availability of data and supporting materials section
Not applicable
Authors' contributions
The authors contributed equally to the writing of the manuscript and approved the final version.
Competing interests
The authors declare that they have no competing interests.
Consent for publication
Not applicable
Ethics approval and consent to participate
Not applicable
Open Access
This article is distributed under the terms of the Creative Commons Attribution 4.0 International License (
http://​creativecommons.​org/​licenses/​by/​4.​0/​
), which permits unrestricted use, distribution, and reproduction in any medium, provided you give appropriate credit to the original author(s) and the source, provide a link to the Creative Commons license, and indicate if changes were made. The Creative Commons Public Domain Dedication waiver (
http://​creativecommons.​org/​publicdomain/​zero/​1.​0/​
) applies to the data made available in this article, unless otherwise stated.